Zipp announces three new wheelsets including a 454 NSW disc and 302 carbon clincher wheels
Zipp has announced a handful of new wheels, including a disc version of their 454 wheel as well as the 302 carbon clincher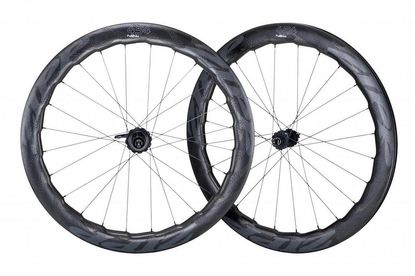 Zipp has announced a whole roster of new wheels, including a disc version of its newly released 454 wheel. The company has also announced a new 302 carbon clincher wheelset, available with both rim brakes and disc brakes.
Zipp 454 NSW disc brake £3390
The 454 NSW disc brake takes the same 'biomimicry' design of the rim brake version but has attached discs, supposedly offering greater "Aerobalance".
Zipp says that the 454 NSW disc brake wheels have undergone rigorous aero development in the wind tunnel as well as in the real world, on real roads.
Technical features of the rim include the Sawtooth design so recognisable from the rim brake iteration of the 454 NSW.
It's here that Zipp has truly applied its "biomimicry", apparently emulating the biological design of a hump back whale. Zipp claims that this simultaneously reduces both aerodynamic drag and side force.
It's a distinctive look thanks to a series of n-shaped Hyperfoil nodes along the inner diameter of the rim. Thanks to the lack of brake track, Zipp has been able to extend these all the way to the out edge of the rim. The wheels also have the recognisable hexagonal dimples on the rim, known as HexFin ABLC dimples, supposedly improving airflow across the rim.
Exclusive to the 454 NSW disc brake is the Cognition disc brake hubset. It features something called Axial Clutch technology, which Zipp claims allows the freehub to deliver half the mechanical drag of conventional three pawl hubs. The discs themselves are attached through a centre lock mechanism.
Technical details:
1615g wheelset total weight
765g front wheel
850g rear wheel
53/58mm wheel depth
27.72 max width
26.4mm brake track width
17mm internal width
24 spokes front and rear
£3390
Available June 2017
Watch: How much faster are aero wheels
Zipp 302 Carbon Clincher rim brake and 302 carbon clincher disc brake £1299
Brand new and exciting, the 302s are Zipp's latest wheelset. The company claims that the design is based on the wheels that succeed in the Spring Classics.
For this reason, the company has opted to go for a 45mm deep carbon rim, that Zipp claims is optimised to reduce aerodynamic drag and give assured, precise handling.
Much like the 454 NSW wheels above, the disc brake 302 model also uses a centre locking brake rotor. The 76D/ 176D hubs have removable end caps that so that you can spec a thru-axle should you prefer the stiffness offered by a boosted front end.
Meanwhile, the brake track for the rim-brake model is handed down from Zipp's Firecrest wheels.
Interestingly, Zipp claims that the 302 is designed to around simple serviceability – something all home mechanics will be overjoyed to hear. According to the company, the hubs end caps and rear free hub can be removed without tools for quick access. J-bend spokes should also make sourcing replacements nice and easy.
Technical details:
1645g (rim-brake) wheelset
1695g (disc-brake) wheelset
45mm wheel depth
26.5mm max width
25.6mm brake track width
16.25mm internal width
20(rim)/24(disc) front spokes
24(rim)/24(disc) rear spokes
£1299
Rim brake available May 2017/disc brake available June 2017
Thank you for reading 10 articles this month* Join now for unlimited access
Enjoy your first month for just £1 / $1 / €1
*Read 5 free articles per month without a subscription
Join now for unlimited access
Try first month for just £1 / $1 / €1