What's the best tread pattern for winter?
With rain, frost and a heightened amount of detritus now decking the lanes, Simon Smythe researches the right rubber for winter riding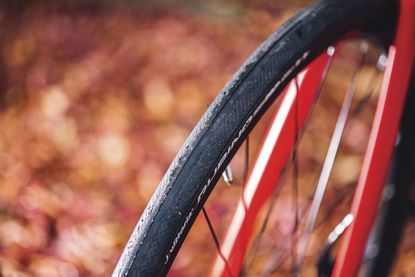 Get The Leadout Newsletter
The latest race content, interviews, features, reviews and expert buying guides, direct to your inbox!
Thank you for signing up to The Pick. You will receive a verification email shortly.
There was a problem. Please refresh the page and try again.
Now that we're staring down the barrel of winter, we need to protect ourselves against wet and slippery roads by fitting tyres with a more aggressive tread pattern for better grip, right? Wrong, says Vittoria's Jon Heasman.
"With road tyres, any tread pattern is largely for confidence between the ears. It doesn't actually provide any extra grip unless you happen to be going 80kph or faster. It just looks like it does, and instils confidence in the rider," he says.
>>> November's Tech of the Month: New S-Phyre shoes, a CatEye lightshow, Fulcrum carbon wheels and a big bike bag
Heasman explains that there's a crucial difference between how road and off-road tyres grip: "Grip from a road tyre is adhesive whereas from a mountain bike tyre it's mechanical." In other words, it's the rubber itself that sticks a road tyre to the tarmac, whether wet or dry, but it's the knobs of an off-road tyre that supply traction in the mud.
To illustrate this, Heasman points to Vittoria's Corsa Control tyre, a heavier-duty version of its Corsa racing tyre, which is slick with just longitudinal lines down the centre of the tread and a simple file pattern at the shoulders. However, it uses four separate compounds of rubber enhanced by the so-called wonder material graphene, and two surface compounds and two supporting compounds are incorporated each with specific grip, rolling resistance and rebound properties. The combination of these four compounds works in conjunction with a very supple casing to enhance the overall performance of the tyre.
"Casing is everything when it comes to grip and performance of a bicycle tyre," continues Heasman. "Today's UK roads are shocking and the more supple the tyre, the bigger the contact patch. This brings you a whole host of benefits including better comfort, better grip, better braking and better cornering. So it's no surprise the best and most expensive tyres have the highest threads-per-inch counts and have cotton casings."
The Vittoria Corsa Control has a 320tpi cotton casing where every fourth strand of cotton is replaced by Kevlar so that the casing is supple and also as strong as possible. Continental, with its popular Grand Prix 4 Season, uses a proprietary 'Max Grip Silica' compound optimised for wet-weather adhesion and low temperatures, and has five plies underneath a sixth cut-resistant DuraSkin puncture-resistant layer.
However, although winter-specific tyres will generally have a system for puncture protection built in, Heasman says it's vital to keep an eye on the condition of your tyres and not assume that a Kevlar belt will keep out the flints forever. "Before and after every ride check your tyres over by running your hand around the tread to make sure you don't have any small stones or objects stuck in there. They may not cause a puncture for that ride but if left, they can work their way through the tread."
As for tyre pressures in winter, Heasman recommends as a general rule running tyres around 10psi lower in wet conditions. "But you should heed any minimum pressures indicated on the tyre wall," he says.
My view
Shelley Childs - Brand manager, Continental Tyres
What's the best winter tread pattern?
I guess that depends on where you ride. If you're exclusively on good roads or main roads, then a slick or semi-slick tread pattern is fine, just like for the summer months.
If you're venturing off onto some unclassified roads, especially in hilly areas, then a moderate grooved pattern may help in autumnal and winter conditions when these roads tend to be covered in leaves and mud.
Rear-wheel slippage can be an issue when climbing in these conditions and so a large grooved shoulder pattern that stretches over into the central tread area, like with the Continental Grand Prix 4 Season, is beneficial here.
However, if you look at the Gatorskin, for example, which is a dedicated training tyre, its tread pattern is even slicker than the GP 4 Season's but it's made from a German-made natural rubber that's intended for high winter mileage.
Our view
Contrary to popular belief, you don't need an aggressive tread pattern for wet tarmac since grip from a road bike tyre on tarmac at relatively low speeds is adhesive rather than mechanical, relying on the rubber compound rather than knobs.
However, although a summer tyre will grip just as well as a winter tyre, a dedicated winter tyre is tougher and offers better puncture protection so unless you use them you're likely to spend a disproportionate amount of time standing by the side of the road while your club-mates get colder and crosser.
Thank you for reading 20 articles this month* Join now for unlimited access
Enjoy your first month for just £1 / $1 / €1
*Read 5 free articles per month without a subscription
Join now for unlimited access
Try first month for just £1 / $1 / €1
Get The Leadout Newsletter
The latest race content, interviews, features, reviews and expert buying guides, direct to your inbox!
Simon Smythe is a hugely experienced cycling tech writer, who has been writing for Cycling Weekly since 2003. Until recently he was our senior tech writer. In his cycling career Simon has mostly focused on time trialling with a national medal, a few open wins and his club's 30-mile record in his palmares. These days he spends most of his time testing road bikes, or on a tandem doing the school run with his younger son.