Who needs a superbike? Danish pursuit squad smash world record on bike a fraction of the cost
The Danes set a world record on one of the more reasonably priced machines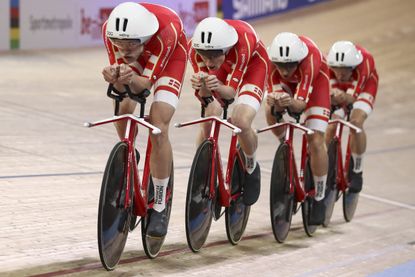 Eyebrows have been raised by the world record breaking performance of the Danish team pursuit squad, with the quartet all aboard Argon 18's Electron Pro track bikes.
On Thursday, the four riders - Lasse Norman Hansen, Julius Johansen, Frederik Rodenberg Madsen and Rasmus Pedersen - covered four kilometres in 3-44.672 - making them the first ever to dip below 3-45.
They had already broken Australia's previous world record during qualifying on Wednesday.
UCI documents sent to Cycling Weekly by an insider list the Argon 18 Electron Pro's frame cost as €2,500 (without VAT), with the fork coming in at €500. In the UK, we found a frameset coming in at £4999.99 at Slane Cycles. (opens in new tab)
The New Zealand team were second, in 3-49.7. Great Britain posted a time of 3-50.341 - however, they were riding the Cervelo T4 bike of previous competitions and not the new Hope HB.T track bike which is listed on Hope's website as coming in at £17,100 (opens in new tab) (excluding VAT). We've yet to see how the HB.T will perform in comparison.
The Danish team has had guidance from aerodynamicist Dan Bigham, of WattShop. The World Championships held in Berlin represented his first official outing with the team.
Bigham and his Huub-Wattbike team-mates took Gold at the 2019 HSBC UK British National Track Championships, also claiming World Cup titles in 2017 and 2018, and their bike of choice is the Electron Pro from Argon 18.
The Danish team wore the Tempor helmet favoured by Bigham's Huub Wattbike riders, also opting for Huub's heated trousers as they awaited their turn to ride.
Unlike the Hope track bike, with its wide fork and seatstays designed to control air flow and limit the effect of the rider's moving legs and body, the Electron Pro offers clearance for tyres only up to 23mm.
The Dane's success on the bike has prompted questions about the effectiveness of some of the more expensive bikes on display and due to appear at the 2020 Olympics.
Describing the frame on its website, the Canadian brand notes: "Aero engineering begins with tube shapes and extends to considerations of rider position in both drop bar and pursuit setups."
The frame uses the 'Argon Fit System' which places a focus on using rider positioning to limit the effect of resistance - the body on the bike representing close to 90 per cent of drag at high speeds.
Thank you for reading 5 articles this month* Join now for unlimited access
Enjoy your first month for just £1 / $1 / €1
*Read 5 free articles per month without a subscription
Join now for unlimited access
Try first month for just £1 / $1 / €1