Should you worry about a wheelset's weight limit?
Buy a new wheelset and you'll notice that it comes bearing a rider weight limit. How restrictive are these limits?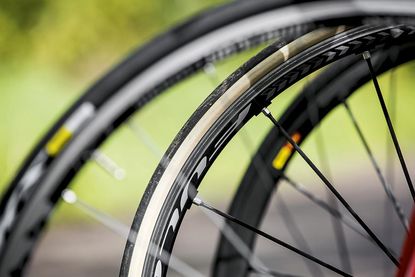 In the old days, when the only people who wanted high-performance cycling equipment were lithe club riders, the idea of rider weight limits was almost unnecessary.
Now, though, with riders of all sorts of shapes and sizes wanting to benefit from great kit — and with manufacturers trying to optimise every aspect of their products — rider weight limits have become far more relevant.
So we asked Tom and Peter Marchment, the founders of Hunt Bike Wheels, why these restrictions are so important in the case of wheels.
"When a bike frame is designed there is some indication of the weight and power of its likely rider according to the size of the frame," Tom explained. "Somebody who rides a 50cm frame is generally nowhere near as powerful or heavy as somebody who rides a 62cm frame. So you can design the frame and choose tube walls and diameters accordingly.
>>> How to look after your new wheels
"However, with a wheelset, anybody could fit any wheelset to any bike underneath any rider, so the weight limits are there to give an indication who and what those wheels are suitable for."
That 'what' rather than just 'who' is a crucial point — a wheel's suitability isn't as black and white as checking rider weight alone.
Forces for courses
"A wheel that is used for riding on a bit of gravel or doing cyclo-cross can be built a bit stronger and would maybe allow a heavier rider on the road. So if you were going to take a wheel off-road, you would want a lower rider weight than you would on road," Tom explained.
"But it's also important to understand that not everybody who falls within the rider weight limit will have the same experience from a wheelset. A wheelset might have a maximum rider weight limit of 100kg, but how that wheel performs for somebody who is 60kg will be different compared to somebody who is 85kg.
"Both riders could use that wheel — and this is why the wheels used by Tour de France riders are still OK for heavier non-Tour de France riders. But the 60kg Tour rider is looking for and will enjoy excellent stiffness from those wheels, while the 85kg rider will experience and might even want a little bit of give and comfort in that same wheelset.
"So different riders at different weights will notice a difference in the way the same wheel feels to ride. If you wanted to build wheels that would provide the same characteristics for every rider, then you'd probably have to change the design for every five or 10kg of body weight," Tom said.
Evolution and revolution
Although we've been talking about stiffness and ride experience, Tom and Peter point out this is quite different to wheel strength and fatigue resistance.
"We have a fair understanding of what rider weight a certain wheel build and spec can handle. But we also have a range of different tests [see side box] for different simulated rider weights," Peter said.
>>> Seven essential things to look for when buying new wheels
"One of the things that is helpful when designing a wheelset is that, unlike most of the other components on a bike, the way in which forces are applied to a wheelset is quite predictable and well understood. You have two contact points at the dropouts and then one contact point with the road, and you know that all the forces will be loaded between those three points.
"It means that over the years the design of wheelsets has become optimised to be very competitive compared to other components, which can be used in different ways by different riders. A wheel is actually very well protected from any kind of unexpected forces," Peter said.
"The limiting factor on a wheel is rider weight, whereas there are all sorts of other environmental factors regulating how strong you might want to make other components. Also, the increasing use of larger-volume tyres coming into effect now definitely reduces the overall fatigue on a wheelset."
And what about those heavier riders — do wheel makers see them as a headache?
"It's not a problem, it's an opportunity. One of the guys we have on our open development team is Will Johnson, who is a 17-stone ex-Leicester pro rugby player. He cycled Paris-Roubaix on our wheels, which was very cool but also a moment where we had to hold our breath a little! But it means we are as aware of heavier riders as anybody, and we know a lot of these riders come with a lot more power, too," Tom said.
"But we think everybody should follow rider weight limits. If you go above them you have to realise that you are taking on the responsibility for any failures. The nature of wheels and the way in which they're used involves long-term cyclical loading. Wheels might have a rider weight limit of 110kg, but if somebody who is 115kg sits on a bike fitted with them, they won't collapse. However, the added effect of fatigue over the years will be greater with the heavier rider.
"So rider weight limits are also an indication of what you need to adhere
to, to get a reasonable life expectancy out of that wheelset. With a heavier rider they won't fail within 100 miles or even 500 miles, but you might find that after 1,500 miles things aren't as good as they should be and they will require extra care and maintenance."
Industry view: Peter Marchment
Materials scientist and director of Hunt Bike Wheels
CA: What tests do you run on your wheels?
PM: EN tests which replaced BSI tests are incredibly basic so dedicated wheel manufacturers like us have other tests we use. Because two of the key components of a wheel — the hub and rim — are made of aluminium, fatigue is one of the most likely causes of failure in a wheelset.
Aluminium fatigues more easily than steel. So as well as real-world testing, we put our wheels through a rolling cobbled road test.
CA: How does that rolling cobbled road test work?
PM: For a 100kg rider weight limit, which is our standard rider weight limit, we directly load 65kg onto the rear wheel at the axle.
A rider's weight is spread across two wheels but generally the weighting is 55 to 60 per cent on the rear wheel. The test wheel itself has a 23mm tyre on it pumped up to 120psi — essentially the narrowest tyre anybody is likely to use at the maximum pressure anybody is likely to use with a clincher, and because it's directly loaded there's no benefit of suspension through the frame or seatpost or saddle.
That's then sat on a one-metre diameter spinning drum which has twelve 7mm steel cobbles on it, and that is then spun at 25kph for 1,000km.
CA: What happens then?
PM: If there are any fractures or micro failures at the end of the test then that wheel doesn't make it into production. Also, we have percentages of roundness tolerance and spoke tension that the wheel has to maintain.
Every wheelset that we bring to production has to satisfy that test although we change the amount weighted on the axle dependant on what we want the intended use of the wheel and rider weight limit to be.
The original version of this article appeared in the Summer 2016 issue of Cycling Active magazine
Thank you for reading 10 articles this month* Join now for unlimited access
Enjoy your first month for just £1 / $1 / €1
*Read 5 free articles per month without a subscription
Join now for unlimited access
Try first month for just £1 / $1 / €1