Questions over Paul Kimmage Defence Fund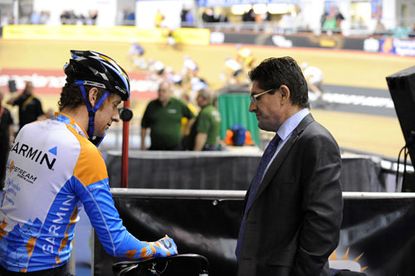 Confusion surrounds the Paul Kimmage Defence Fund with news that legal action is being taken against one of the trustees, Aaron Brown, for his alleged failure to provide money from or information relating to the fund.
The defence fund was set up last September to support Kimmage, the former rider-turned-journalist, when cycling's world governing body, the UCI, began legal action against him for defamation. It attracted support from throughout the world, and within two months stood at $90,000, with contributions from more than 3,000 individuals.
In October the UCI suspended its action against Kimmage, but the fund remained open. Now, however, some of the money - believed to be around $10,000 - is believed to be unaccounted for.
The action against Mr Brown was filed on Monday in the Superior Court for Worcester County, Massachusetts, by Lesli Cohen, editor-in-chief of Cyclismas, a website devoted to cycling satire. Brown is Cyclismas operations director, but perhaps better known for his spoof Twitter account, 'UCI Overlord,' a parody of Pat McQuaid, the UCI president who, with former president Hein Verbruggen, instigated the legal action after Kimmage described them as corrupt.
"I am currently engaged in a legal action against Aaron Brown," said Cohen. "The court proceeding is to supervise the settling of accounts which Mr. Brown has, to date, refused to provide the details of to either myself or Paul Kimmage - with respect to both the Paul Kimmage Defense Fund and the business accounts for Cyclismas.com and its related ventures.
"At no time did either Paul Kimmage or myself ever have control or access to the accounts that held the Paul Kimmage Defense Fund," Cohen continued. "Aaron Brown maintained sole control of that account, and it was Aaron who disbursed the payments to Paul to pay his attorney's fees in December.
"On Saturday, Paul Kimmage asked Aaron Brown for detailed statements showing the existence of the fund and how much was remaining in the fund. He was not given satisfactory answers by Aaron. Paul then asked his attorney to request that Aaron either provide access to the Kimmage Defense Fund or transfer the remaining funds into an account under the attorney's care and control. Aaron refused.
"We are now asking the court to compel Aaron to provide a full accounting of all the funds mentioned above and rectify the situation."
Brown, who relocated to Girona at the start of the year, responded by email to the claim that some of the money is missing: "It is incorrect that some of the funds have gone missing.
"Due to US tax law, there was an issue of liability, which I have assumed due to the request of the others who have been involved. The fund was originally deposited into a Cyclismas account which also had other business functions. It has been subsequently been placed into another account to prevent any confusion."
Paul Kimmage did not respond to our questions.
Thank you for reading 20 articles this month* Join now for unlimited access
Enjoy your first month for just £1 / $1 / €1
*Read 5 free articles per month without a subscription
Join now for unlimited access
Try first month for just £1 / $1 / €1