A look at Herne Hill Velodrome's new pavilion
Legendary track's new facelift revealed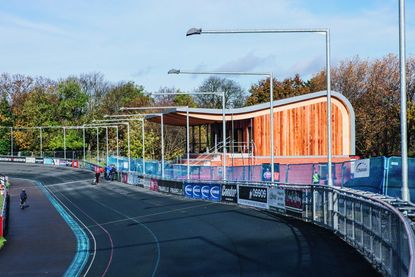 The refurbishment of the historic Herne Hill velodrome reached a landmark stage recently as the scaffolding was removed from the new pavilion, allowing it to be seen clearly for the first time.
Originally built in 1891, the battle to restore the velodrome to its former glory has been a long one — it was
originally threatened with closure in 2001 as the surface of the track itself was breaking up and the pavilion was declared unsafe.
>>> Icons of cycling: Herne Hill Velodrome
The facility struggled on until a campaign was launched to restore it in 2010 as its lease came to an end and closure seemed likely.
Since then investment by British Cycling, Southwark Council, the Mayor of London and a bequest from local cyclist Leonard Lyes has led to the installation of new lighting, a new lease and the development of the pavilion project.
>>> 'Record' £770million to be spent on cycling in London
The realisation of the design, which incorporates the original derelict pavilion's signature columns and the same wood used to clad the London Olympic Velodrome in Stratford, is now visible in all its glory.
The new facility will include function rooms, a viewing gallery, a bar, bike storage facilities and a grandstand
with bench seating.
Adam Harridence, a trustee of the Herne Hill Velodrome Trust, said: "To watch the progress from what it has been in the last 10-15 years to where we are now has been exciting to everyone, not just the trustees.
"The work that has been done and the fact that we are going to sign a long lease means that what has been an incredibly successful breeding ground for the UK athletes will have its life extended, which will mean that it can continue to deliver successful athletes," he added.
Thom Kilvert, associate partner at architect Hopkins, said: "It has been very much a labour of love for us and everyone else involved rather than just about making the most money.
"It has been massively important to us actually because the project came into the office in late 2010 and there has been a huge number of people working very hard to align the different parties."
Work still to be done includes fitting out the building and some glazing before it is due to open to the public early next year.
Thank you for reading 20 articles this month* Join now for unlimited access
Enjoy your first month for just £1 / $1 / €1
*Read 5 free articles per month without a subscription
Join now for unlimited access
Try first month for just £1 / $1 / €1