Andy Turner and Caroline Whittaker take victory in the first Cycling Weekly virtual time trial
A great evening of racing for our first Zwift club 10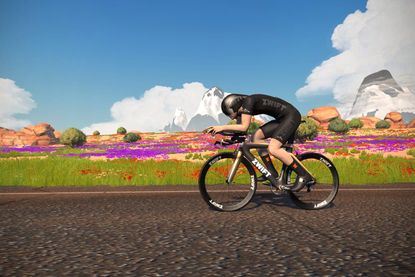 The first ever Cycling Weekly virtual time trial saw some outstanding performances,, with victory going to Andy Turner and Caroline Whittaker.
Teaming up with online training platform Zwift, CW has organised a series of 10-mile time trials to help readers hone their competitive edge during this bizarre and unsettling year.
The first event took place on Wednesday (July 15) as racers took on the pan-flat Tempus Fugit course in the Watopia world
It was Turner, who rides for SwiftCarbon Pro Cycling on the road, who took the overall victory with a huge power output, holding 436 watts (5.9 watts per kilogram) to ride a 20-03.
George Mills-Keeling from Ribble-Weldtite took second in the men's race, with Dave Rayner rider Kieran Savage rounding out the podium.
In the women's race, Caroline Whittaker took the victory with a time of 23-12, putting out 227w (4.4w/kg) for her effort.
The second place finisher was Claire Jessop from Otley CC and bronze went to Kess Cuming.
Riders may have also seen a few familiar names in the results, including Cycling Weekly columnist Doctor Hutch.
The Doc took eighth overall, showing he's still got the power as he rode a time of 21 minutes and put out 387w (5.3w/kg).
John Archibald, track star and time trial specialist with Ribble-Weldtite also hit the course, but we have a feeling he may not have been giving his all, as he put in a 24-56 with an average power of 252w.
Cycling Weekly fitness editor David Bradford also put in a strong performance, finishing 11th with a time of 21-10.
Editor Simon Richardson also lined up, finishing 65th with a time of 24.36, out of the 193 finishers on Zwift Power.
Full results
Men's
1. Andy Turner (Dropouts) 20-03
2. George Mills-Keeling (E-Stellas) 20-18
3. Kieran Savage 20-28
4. Will Salisbury 20-40
5. Mark Holton 20-50
6. Frederik Scheske 20-55
7. Tim Davies (CC Luton) 20-56
8. Michael Hutchinson (Cycling Weekly) 21-00
9. Conor Walsh (MUSTASH) 21-05
10. Neill Delahaye (CIZL) 21-05
Women's
Caroline Whittaker 23-12
Claire Jessop (Otley CC) 24-22
Kess Cuming 24-31
Louise Cuming 24-52
Lorna Latimer 27-21
Anne Staley 27-48
Charlotte Maddison (BMCC D TT) 28-11
Liz R (BRT) 28-19
Luciani Polo 28-24
Jemma Walton 28-46
Thank you for reading 20 articles this month* Join now for unlimited access
Enjoy your first month for just £1 / $1 / €1
*Read 5 free articles per month without a subscription
Join now for unlimited access
Try first month for just £1 / $1 / €1