Alex Dowsett breaks British 25-mile time trial record with sub 45-minute ride
The Movistar man adds the 25 competition record to the 10-mile record he took in 2014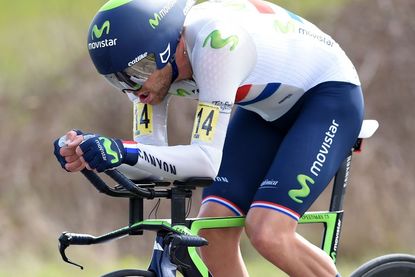 (Image credit: Andy Jones)
Movistar professional Alex Dowsett smashed the British 25-mile time trial competition record on Sunday morning, recording 44-29.
The previous record of 45-43 held by Matt Bottrill was broken by over a minute in the ECCA Championships in Cambridgeshire on the E2/E5 course near Newmarket.
Dowsett averaged 33.7mph (54.2kmph) on the A14 Newmarket bypass to become the first rider to break the 45 minute barrier for the distance.
Colin Ward (Essex Roads CC) was second, clocking 47-45, with Justin Layne (CC Ashwell) third with 48-49. Julia Freeman (Easterly RC) was fastest woman with 55-57.
Dowsett was riding the event as he was home from training in the Pyrenees to celebrate his mum's 60th birthday.
Watch: Pro bike - Alex Dowsett's Canyon Aeroad
"I knew I was coming home, so had a look around for events and saw there was one on the E2, which is nice and local," he said.
"It's a part of the sport I really like. It's where I got into the sport, so I try and do them when I can. I don't do it to try and beat everyone else, but to really test myself - although, I don't like the 4am wake up calls!"
Conditions on the day were slightly cold, with a light wind giving a cross/tailwind out and headwind back.
Dowsett was last man off at 8:10am, but he revealed that the return leg wasn't as bad as feared, with some shelter from the headwind offered by the hedgerows along the route.
"I got everything out, and couldn't have done more, and the numbers aren't bad," said Dowsett who averaged 409 watts for his record-breaking ride, and reckons he could go even faster in warmer conditions.
The Essex rider is clearly returning to form after having to pull out of the Giro d'Italia to have surgery to remove a metal plate from his right collarbone, that he fractured in a training crash in February 2015.
The plate was starting to show through the skin and carried the risk of getting infected.
He says he was bitterly disappointed to miss the Giro, as he had been targeting the opening 9.8km time trial, viewing it as a career defining chance to take the maglia rosa.
Thank you for reading 5 articles this month* Join now for unlimited access
Enjoy your first month for just £1 / $1 / €1
*Read 5 free articles per month without a subscription
Join now for unlimited access
Try first month for just £1 / $1 / €1