Why do Brits love hill-climbs so much?
Judging by their popularity, hill-climbs seem to chime with our national character. We asked eight notable hill-climbers just what it is they love about wheezing lungs, burning legs and pain-scored faces...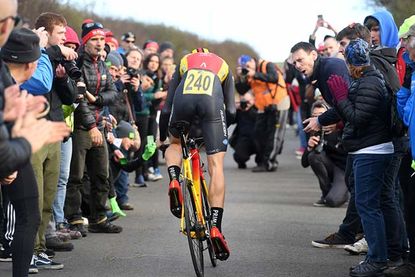 (Image credit: Andy Jones)
Despite being one of the shortest on the domestic calendar, the hill-climb season is one that attracts riders from all areas of the sport — whether it is domestic pros vying for podium spots at the Nationals, hill-climb specialists looking to force their way into the reckoning, or just a weekend warrior looking for a bit of pain and suffering to finish off their season.
>>> 'I feel awful now': Dan Evans on his amazing power output in National Hill-Climb victory
We all have different goals in a hill-climb, but why are we so attracted to sacrificing our minds and bodies to these intense, stomach-wrenching efforts?
A chance to test your skills
Lee Baldwin — VCUK-Velochampion Elite Road Team
"Unfortunately, there are not many time trials and even fewer road races that use decent hills anymore. So the hill-climbs are a chance to actually use my climbing abilities and race up some hard roads and hills.
"I like to push myself to the limits, which is only ever really done in a hill-climb. It also teaches you things about yourself that you can apply to training."
Sheer bloody-mindedness
Maryka Sennema — 2013, 2014 and 2015 women's national hill-climb champion
"As someone not born and raised in the UK but who has English heritage and has been living here for nearly 10 years, I would say there's something about the British culture and psyche that relishes taking on painful, why-would-you-do-that experiences and then once achieved, calling them 'the best ever'!
"Tackling a very steep climb is one of those things that normal people would never do and therefore a British person must."
The tactics
Adam Kenway —2016 men's national hill-climb champion
"Riding hill-climbs is a bit strange, and I worry about Monsal more than anything. About a week before, I get a little bit nervous, because within one minute you know you are going to go from normal heart rate to flat out, trying not to pass out.
"It is a hard thing to put your body through. But with the short ones it's just a case of thinking about keeping the legs turning and keep pushing.
"For anything over a couple of minutes I have to say to myself: 'Back off, don't go too hard.' If you go flat out from the gun on a four-minute climb, after two minutes you're not going to have anything left and it'll be a disaster."
The Tech - or lack of it
Tejvan Pettinger — 2013 men's national hill-climb champion
"Cyclists like to buy expensive carbon-fibre frames and to make their bikes lighter; it is attractive even if you're a sportive rider.
"But with a hill-climb you don't need to spend a huge amount to get started. I think it is less technologically demanding than time trials are, you don't need to do wind tunnel testing and things like that.
"I've been through a weight-weening process with my bike and you are really fighting for the odd second here and there. I guess it can be part of the fun to make your bike as light as possible, but it is not a prohibitive part of the sport."
Respect
Adam Kenway — 2016 men's national hill-climb champion
"Hill-climbs are unique because I think everyone knows how hard it is to ride up a hill. So everyone can kind of put it in perspective and think, 'That is hard!' Because you are going relatively slowly, spectators can see the pain in your face, and see how fast people are going to get up there."
Carnival atmosphere
Jack Pullar — 2012 men's national hill-climb champion
"With a time trial on a dual carriageway no one is going to watch it as it is not that exciting because riders go past so fast. Whereas on a hill-climb on the steep parts you get to see the riders for much longer and it is more of an event.
"With more people round one area, because it is normally a lot shorter, it is easier to spectate and there's more of a carnival atmosphere. Without the crowds they would be pretty grim to ride, and not much fun. Especially the bigger ones at Monsal and Bec, the crowds there are like an Alpine pass.
"It is pretty crazy, and the biggest crowds I have experienced at a lower level. Because you don't need to be a pro to enter a hill-climb, and still get those crazy crowds, I think this is one of the biggest attractions of it."
The finish
Tejvan Pettinger — 2013 men's national hill-climb champion
"One of the main things is getting a real buzz from that three or four minutes of intense effort and it pushes you into a zone you rarely get anywhere else. Even in training it can be hard to replicate the feeling of a race where you are motivated to push yourself as hard as you can.
"It is really transcending what you are used to; it is torture when you are doing it but when you are finished you feel a tremendous sense of satisfaction for being able to go so deep."
There's not much else to do
Malcolm Elliott — Monsal Hill-Climb record holder
"The summer is over, people are still riding their bikes as it is reasonable weather and most people may have done their serious racing for the year.
"So it's a nice event to ride out to, and incorporate into your ride. I think nowadays more of the top-level riders do continue their season later and perhaps the events get stronger fields than they used to."
Thank you for reading 20 articles this month* Join now for unlimited access
Enjoy your first month for just £1 / $1 / €1
*Read 5 free articles per month without a subscription
Join now for unlimited access
Try first month for just £1 / $1 / €1