Michael Hutchinson clocks 17-52 in Team Swift 10-mile time trial
British time trial round-up (August 23-25): News and results from around the UK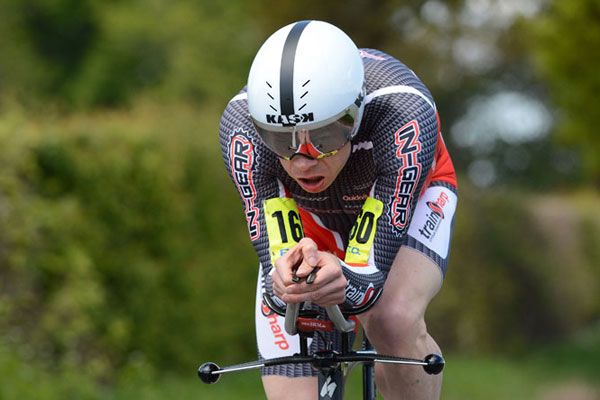 Defending champion Michael Hutchinson (In-Gear Quickvit Trainsharp RT) continued the build-up to his defence of the national 10-mile time trial title this coming weekend with a winning 17-52 in Team Swift's Charity event in East Yorkshire.
Hutchinson was just seven seconds outside his time from the same event in 2012, which was then the competition record, as he powered to victory on the renowned V718 course at South Cave ahead of Steve Irwin (Kingston Wheeler), 18-19, and Adam Duggleby (Wheelbase/Altura), 18-24.
Fourth place went to Richard Bideau (Pendle Forest CC), who clocked 18-35 in his first open event, on a day when improving conditions produced a welter of quick times – Ben McIntosh (Crewe Clarion Wheelers) fastest in the junior event in 19-31 and Hayley Simmonds (Velosport-Pasta Montegrappe), 20-28, leading the women.
The afternoon events went ahead after the morning's opener for riders slower than 22 minutes in the last three seasons was abandoned following an accident.
Rob Pears (Procycling Magazine RT) dipped inside 50 minutes for 25 miles as fastest on actual time in the VTTA National Championship at Newmarket, finishing in 49-56. Simon Norman (Bedfordshire RCC), 51-27, and Steve Williamson (VC Godalming & Heslemere), 52-25, were next best, while 84-year-old Eric Marsh (Ciclos Uno) took the title on age-related standard times with an actual 1-03-21 giving him a plus of 22-11.
Joel Wainman (Team Swift) shaved 39 seconds from his best for 50 miles with 1-39-30 for a clear victory in the Ferryhill Wheelers event at Kirklevington, North Yorkshire. Patrick Pennefather (Rocktoroll Cycles), 1-44-28, claimed second place, ten seconds ahead of Chris Isats (Berwick Wheelers).
Also in North Yorkshire, Andy Jackson continued his excellent run of results and gave the Team Swift squad another victory as he covered a rolling Boroughbridge course in 1-02-12 to win the Yorkshire Cycling Federation '30' by over five minutes. Carl Saint (Yorkshire RC) returned to action to take second place in 1-07-29, pushing Ian Turner (St Neots CC) into third place by 19 seconds.
Graham Moir (Royal Navy & Royal Marines CA) was also a convincing winner, clocking 20-38 on the A38-based Gloucestershire course ti finish well clear of Jimmy Little (VC St Raphael), 22-02, in the Giant CC/Halo Films '10'.
Jon Simpkins (www.drag2zero.com) was fastest with 52.17 in the VTTA Midlands 25' at Salford Priors, second place going to Mark Corbett (Worcester St Johns CC) in 52-29.
Monday's heavy rain failed to deny Dean Robson (Somerset RC) a course record 51-10 for the hilly 22-mile course from Bishops Tawton, near Barnstaple, in North Devon Wheelers-Southfork's Bank Holiday promotion.
Crystal Spearman (Cycles Scuderia RT) produced new women's course record of 1-00-19.
Said Robson, who put over three minutes into second-placed Harry Snow (54-20) of the promoting club: "I don't mind racing in the rain, especially if I know my competitors will struggle more against it. I can react with some aggression against the rain to make me go harder and it makes me feel much less distracted by any cravings to drink."
British road race round-up (August 23-25): News and results from around the UK