Steve Davies triumphs in South West cyclo-cross league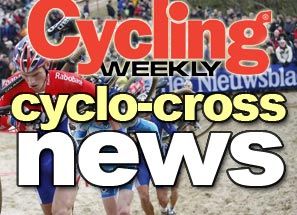 Reigning National over-50 champ and National Trophy Series leader, Steve Davies (Hargroves Cycles) left all in his wake in the latest round of the South West League, staged at Brickfields Sport Centre in Plymouth on Sunday.
Davies, the 53-year-old who has been top over-50 in all five rounds of the National Trophy Series so far, crossed the line almost two minutes clear of his nearest rival, with most of the field further back than that.
The early pace had been set by Dexter Hurlock (Mondraker), but a mechanical meant he had to change on to a mountain bike, and while he was in the pits Davies put the hammer down and soloed to victory. Hurlock was 1-53 behind, while Matt Loake (South Fork Racing) was another 44 seconds back in third.
Rapha Condor professional Graham Briggs also took a solo victory in the Rossington Cross, a round of the Lincolnshire League which was held in his home village near Doncaster, South Yorkshire.
He put local knowledge to good use as he hit the front on the opening lap of a field, which meant when they headed into the wooded section which featured mainly narrow single file tracks, he could power into a good lead.
Briggs held his advantage all the way, keeping Orange Monkey pro and GB rider David Fletcher at bay, while just nine seconds further back was Lincolnshire League winner George Thompson (Sleaford Wheelers) in third.
In Cumbria, Stuart Wearmouth (MTS Cyclesport) bagged a seventh victory in the CXNE Rat Race Series, crossing the line more than two minutes ahead of his nearest rival at Chances Park in Carlisle.
The Series leader, 36-year-old Wearmouth held off all-rounder Keith Murray (Scott UK) into second, while Alan Nixon (Blackhawk Bikes) had to settle for third spot which will boost his second spot in the overall rankings.
There were heavy conditions for cyclo-cross races across the country, including the North West League at Edgeside Park in Rossendale, Lancashire, where Simon Maudsley (Leeds Mercury RC) won round 11 of the North West League, ahead of Alex Jones (4 Star Racing).
And in the Western League race at Hengrove Leisure Centre, Bristol, local rider Oli Beckingsale (Endura) took the win in one of his last appearances before retiring.
* In road racing, Jake Martin (Pedal Heaven RT) lapped the whole field on his way to victory in round three of the Imperial Winter Series at Hillingdon.
And at the Apres Hot Recovery Drink Winter League, there was yet another win for Simon Brooks (VC St Raphael) in round four at Preston Park, Brighton, on Saturday