The time is right for the return of Six Day racing to Britain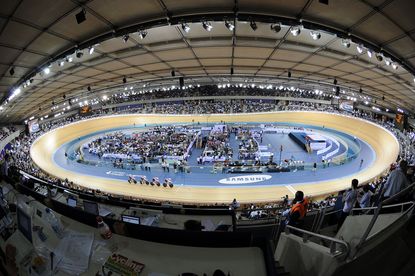 It's time Great Britain once again hosted a Six Day cycle race. Cycling is enjoying a boom in popularity in Britain, and the nation has spawned some of the world's top track riders. And the sell-out Revolution track cycling series using velodromes in Manchester, Glasgow and London has shown that there is serious support for track cycling in the UK.
Six day racing is all about entertainment. All the action takes place in an indoor velodrome, with the off-season and appearance fees potentially attracting plenty of stars to draw in the crowds and heat up the action. The race programme is as fast-paced as the racing itself, with something always going on.
Although known for its European events now - Rotterdam, Amsterdam, Ghent - Six Day racing is actually a British invention from the late 19th century. In 1878 the Agricultural Hall in Islington hosted the first event with races then quickly spreading to America and then to Europe. The last British Six Day was the London Six in 1980, hosted by Wembley.
Many of the traditional Six Day events have found their way into UCI track World Cups and World Championships - the Madison being the most obvious example, named after Madison Square Gardens in New York, which used to host popular Six Day races in the early 1900s.
It's the popularity of the Revolution Series, though, that really points towards the viability of Six Day racing in Britain. Now in its 10th year, the winter Revolution Series brings in track and road stars which the emphasis on fun as much as results. It's a spectator event that can equally be enjoyed by non-cyclists as well as hardened cycling fans, and it's a good family night out too.
Is it such a stretch of the imagination that one successful night could be made into six? Certainly, when the Revolution becomes the first event to take place in the London velodrome in March, it will run over a whole weekend rather than one night.
The Revolution events are run by FACE Partnership, and it's no surprise that they are in the process of looking into the feasibility of running a Six Day in Britain.
"FACE Partnership has carefully considered the opportunities around a Six Day event in the UK, and it's an idea we find very exciting," the company's managing director James Pope told Cycling Weekly.
"We've had discussions with Six Day promoters from the continent and it's a format we'd love to bring across the channel if it was viable logistically and commercially.
"The FACE Partnership team is in fact heading to Bremen in Germany this weekend to experience first-hand the excitement and atmosphere of a Six Day race."
Some caution needs to be exercised. It won't be the first time that Six Day racing will have attempted to be resurrected since 1980. In 2008, then prime minister Gordon Brown 'launched' the London Six Day from Downing Street but lack of sponsorship during the economic downturn ultimately put that event on ice, and it never appeared despite renewed interest around the London 2012 Olympic Games.
Although Britain now has several world-class indoor velodromes - including Manchester, London, Newport, Glasgow and Derby next year - Six Day races traditionally take place on a shorter 200 metre (rather than 250 metre) track. A portable 'Flextrack' is often used for European Six Days, and this could be transported and set up within 24 hours in any large venue in the UK, opening up the range of venues available.
So, it seems that Britain has the organisers, riders, venues and fanbase to support a Six Day event. What are we waiting for?
Related links
September 2009: London Six Day postponed
June 2008: Gordon Brown endorses plans for London Six Day
Thank you for reading 5 articles this month* Join now for unlimited access
Enjoy your first month for just £1 / $1 / €1
*Read 5 free articles per month without a subscription
Join now for unlimited access
Try first month for just £1 / $1 / €1