Chris Froome seeks to distance himself from Team Sky controversies
Defending Tour champion says he has set out his values and prefers to focus on looking after his son than worrying about controversies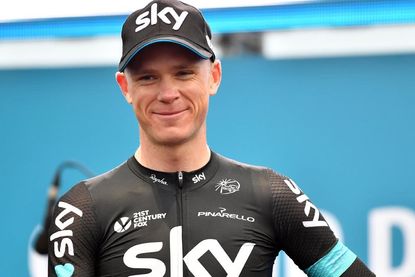 (Image credit: Watson)
Chris Froome has sought to distance himself from recent controversies surrounding Team Sky and Dave Brailsford, insisting that he is much too preoccupied with early season training and looking after his one-year-old son to worry about such matters.
With the start of his season just a few weeks away, Froome said that it was not up to him to provide answers to questions regarding Team Sky and Bradley Wiggins's use of therapeutic use exemptions (TUEs) and the mystery package delivered to the team at the 2011 Critérium du Dauphiné.
>>> Team Sky 'confident' that UK Anti-Doping report will put them in the clear
"There's stuff going on, but we [the riders] are focussed on the performance side of things; we're out there training and trying to get ready for the season," Froome told press on Friday at his Monaco home.
"A lot of people have asked questions [about the TUEs] and we're still waiting to get a lot of those answers, but I don't see why that should go on into the 2017 Tour de France.
"I haven't talked to Dave Brailsford a huge amount. Over the off-season I've really switched off, and have only been in touch more recently, but that was only really about planning for next year.
"The parliament stuff is not something that I'm going out and thinking about every day, I'm more focussed on my training."
Aside from his training, there is another reason why the three-time Tour de France winner says he hasn't done much thinking about "parliament stuff": his one-year-old son.
"To be honest I've got my hands full with a one-year-old at home, so life has definitely changed.
"I'm no longer just waking up, having my breakfast, and going out training. Now I'm waking up, changing nappies, making his bottles.
"Life has definitely changed and it's really put things into perspective."
>>> Dave Brailsford faces scrutiny over claims he misled MPs about Fluimucil package
Even though Froome has not been thinking about the controversies that culminated in team boss Dave Brailsford appearing in front of MPs to reveal the contents of a Jiffy bag, he says that he understands why questions are being asked of the team.
However the 31-year-old insists that he can do nothing more than reiterate his own personal values about clean cycling and the ethical use of TUEs (which allow athletes to legally take otherwise banned substances to treat medical conditions), values that saw him turn down a TUE for an infection at 2015 Tour on moral grounds.
"I created my values. I put my values out there and tell people what my values are.
"I like to think that people can make up their own decisions about me, and that people understand where my values stand.
"For me personally, it'll just have to be the test of time. We might have to wait ten years to really show that I'm doing things right.
"I want people to trust me as an individual and trust what I'm doing."
Thank you for reading 20 articles this month* Join now for unlimited access
Enjoy your first month for just £1 / $1 / €1
*Read 5 free articles per month without a subscription
Join now for unlimited access
Try first month for just £1 / $1 / €1