Ed Clancy leads JLT Condor one-two at Eddie Soens Memorial race
Results and gallery from the 56th edition of Eddie Soens Memorial handicap - Pictures by Andy Jones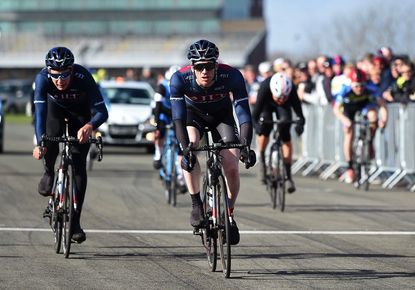 (Image credit: Andy Jones 2014)
Ed Clancy gave JLT Condor a great start to their season as he led a one-two for the team in the Eddie Soens Memorial handicap at Aintree Racecourse in Merseyside on Saturday morning.
The 32-year-old multiple Olympic medal winning Yorkshireman edged to victory ahead of Welsh team-mate Jon Mould to secure his third win in the popular early-season race which this year was the 56th edition.
>>> Michal Kwiatkowski takes sensational victory at Strade Bianche 2017
Split into four groups, the elite riders had to wait three minutes before they were let loose to chase down the longmarkers, but it didn't take long before the strong riders were on the heels of the rest, with the four groups – all set off a minute apart – were down to two groups with 25 minutes gone.
It wasn't much longer before the race came together, and shortly after a group attacked off the front made up largely of elite riders – including Clancy.
That attack was pulled back but another went off the front soon after, and with most of the big teams represented it was destined to stay clear and make the battle for the finish a ten-rider affair.
Despite an earlier blip which saw Clancy have to drop back to a service car as a leg warmer got stuck in his back wheel, he looked strong and made several attacks off the front as the race progressed.
As they headed for the line the lead group were strung out, and Jon Mould hit the front, only for team-mate Clancy to sprint round him in the final ten metres, while Harry Tanfield (Bike Channel Canyon) took third.
First junior was inches behind in fourth, being the talented National, European and World junior cyclo-cross champion Tom Pidcock (PH MAS-Paul Milnes-Oldfield), while last year's winner Vertie Newey (Metaltek-Kuota) was fifth after sticking with the elites as the third handicap group were swallowed up.
"It was nice to get the win in our first race of the year on home soil," said Clancy. "When we had caught the leaders and the break went clear it had lots of different teams in there, so it went away pretty quickly.
"There weren't too many tactics but we all worked well together. But it started getting a bit messy in the last couple of laps, so when Mouldy led it out I came past him in the last few metres."
It was Clancy's third win in the Eddie Soens Memorial having won in 2013 and 2009,and gave the team a taste of bracing windy and cold British racing on an exposed circuit, after having trained and raced for several weeks in Australia, including the Jayco Herald Sun Tour.
Results
1. Edward Clancy OBE (JLT Condor) 30 laps in 1-40-51
2. Jon Mould (JLT Condor)
3. Harry Tanfield (Bike Channel Canyon)
4. Thomas Pidcock (PH MAS Paul Milnes)
5. Bertie Newey (Metaltek-Kuota)
6. Jack Rees (Brother NRG)
7. William Tidball (PH MAS-Paul Milnes)
8. Matt Nowell (Bike Channel Canyon)
9. William Brown (Brother NRG)
10. Kieran Brady (Richardsons-Trek) all same time
Thank you for reading 5 articles this month* Join now for unlimited access
Enjoy your first month for just £1 / $1 / €1
*Read 5 free articles per month without a subscription
Join now for unlimited access
Try first month for just £1 / $1 / €1