Eddy Merckx: Having disc brakes in the peloton is irresponsible
Eddy Merckx says having disc brakes in the peloton is 'irresponsible' and 'life-threatening' in an interview with Sporza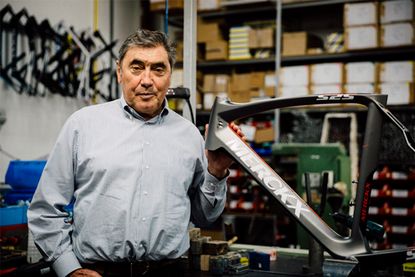 Cycling legend Eddy Merckx believes that having disc brakes in the professional peloton is 'irresponsible' and 'life-threatening' in the wake injuries reportedly caused by them at Paris-Roubaix.
Movistar's Fran Ventoso suffered a deep cut to his lower left leg in the cobbled Classic on May 10, which he said was caused by one of the 16 disc brake-equipped bikes in the peloton.
Subsequently, the UCI suspended its testing of disc brakes and Merckx agrees with the decision to remove them from the peloton.
"Having disc brakes in the peloton is irresponsible, it's even life-threatening," he told Sporza. "The only advantage you have is when it rains. But with a disc brake your wheel is heavier and it's more dangerous."
Several riders have spoken out about the dangers of disc brakes, including Ventoso in an open letter after his accident.
"Disc brakes should have NEVER arrived into the peloton, not at least as we know them right now," Ventoso wrote.
"I haven't met any rider who has run out of braking power with traditional brakes; I haven't known anyone who didn't see his wheels skidding when you brake with all power you've got, no matter traditional or disc brakes. Then: why using them?"
Thank you for reading 20 articles this month* Join now for unlimited access
Enjoy your first month for just £1 / $1 / €1
*Read 5 free articles per month without a subscription
Join now for unlimited access
Try first month for just £1 / $1 / €1