Eight things you will definitely see at the Tour de Yorkshire
Hills, sheep and thousands of people - all things we are guaranteed to see at the 2016 Tour de Yorkshire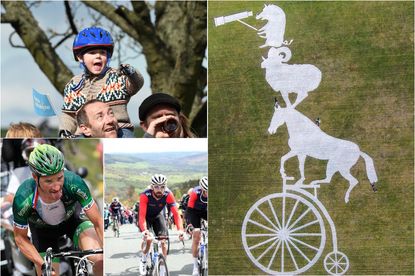 Spectators, in their thousands
At last year's Tour de Yorkshire and especially when the Tour de France visited Yorkshire in 2014, there were often so many people at the side of the road you could barely make out the peloton.
Kids on their parents' shoulders
It just seems a very British thing to do - if your little one can't see the action from ground level, hoist them up on your shoulders and go home with a bad back instead. Give them a little flag to wave to complete the look.
>>> Tour de Yorkshire times and where to watch
Hills, really hard hills
Yorkshire loves its hills. Even the bits of road that are flat are actually uphill - there's no escaping them. And Yorkshire doesn't just do your bog standard hills, it seems to specialise in ridiculously steep hills.
Three of the ascents on the final stage between Middlesbrough and Scarborough average over 10 per cent, with the Cote de Grosmont standing at 2.2km at 10.8 per cent.
>>> Nine things only Yorkshire cyclists know
Your essential guide to the Tour de Yorkshire
Grimacing
There will be some poor soul from one of the international teams who has never ridden in Britain before and hasn't come to try out the route in advance. This rider will look at the profile of stage one and expect an easy day, with only one categorised climb.
Unfortunately, there's plenty of other little ramps along all of the stages that the organisers haven't classified that will seriously test even the best riders in the world. There will definitely be some grimacing on stage three with the brutal climbs in the second half of the route.
Oh, and Thomas Voeckler is riding and he is permanently grimacing when he attacks off the front of the peloton.
Bradley Wiggins at the back of the peloton
While Tommy V is off the front of the peloton, there will be no prizes for guessing who will be bringing up the rear.
Sir Bradley Wiggins is the star turn at this year's Tour de Yorkshire but that doesn't mean he'll be the star performer. Last year Wiggo sat at the back of the pack for much of the time, staying out of harm's way and generally enjoying his spin in the countryside.
It'll be business as usual again this year, so in cricket parlance (they love that in Yorkshire), he won't be troubling the scorers.
With Tour fever hitting Yorkshire, there is no better time to sign up for a Yorkshire sportive.
26 June - Ripon Revolution - http://po.st/SZDyeC
24 July - Scarborough Black - http://po.st/DAw2jF
01 October - Wiggle Ay Up! Yorkshire - http://po.st/BTWvyJ
Crashes
The weather is set to be pretty appalling at some parts of the weekend, so wet roads and steep descents could make for some nasty crashes.
Some of the descents are also deceptively tricky, catching riders unaware. Last year, poor Eddie Dunbar broke his collarbone as he flew into a hedge on a descent and a few minutes later Ben Swift crashed out of the race on the same corner.
Artwork on the fields
There are a lot of fields in Yorkshire, especially along the race route. And with helicopters hovering overhead for the television pictures, there will be a few people who get up extra early to create a work of art out of hay bales.
From the road they will be completely unidentifiable, but to those watching at home they'll elicit an eyebrow raise and head nod in appreciation, like this one on Sutton Bank this year.
>>> Adam Yates hopes for Tour de Yorkshire win to push for selection to Rio 2016 Olympics
Painted sheep
https://www.youtube.com/watch?v=JzLrIMoMbbM
If you did it to a dog you'd be locked up for animal cruelty, but painting sheep seems to be an acceptable thing to do. During the Tour de France we see them with polka dot livery which, despite not actually featuring on a Tour de Yorkshire, we'll probably see again this weekend.
Thank you for reading 20 articles this month* Join now for unlimited access
Enjoy your first month for just £1 / $1 / €1
*Read 5 free articles per month without a subscription
Join now for unlimited access
Try first month for just £1 / $1 / €1