Major flaw in WADA's salbutamol regulations revealed by scientist who helped to create them
Current regulations based on tests on swimmers that didn't take dehydration into account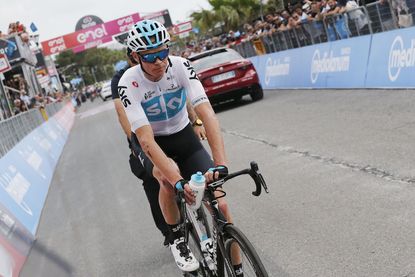 (Image credit: Yuzuru Sunada)
A major flaw in the World Anti-Doping Agency's (WADA) regulations surrounding salbutamol has been revealed by a scientist who helped to come up with them.
Speaking to The Times on Wednesday, two days after an anti-doping investigation into Chris Froome was dropped after Froome's legal team demonstrated the likelihood of false positives under the current regulations, Professor Ken Fitch explained that the rules as they stand were based on studies of swimmers so do not take into account the dehydration of cyclists after a long race.
"The sport with the highest prevalence was swimming so that's who we tested," Professor Fitch, from the University of Western Australia, explained.
"But what happens after an hour of swimming? A full bladder. Cycling for five hours is completely different, you have little but quite concentrated urine. And a major error with our studies was that we did not measure the urine for specific gravity."
>>> Chris Froome reveals details of how and why he was cleared in anti-doping investigation
Based on Professor Fitch's study, WADA introduced a dosage limit for salbutamol and other similar drugs of 1,600 micrograms per 24 hours and a "decision limit" of 1,200 nanograms of salbutamol per millilitre of urine, above which an anti-doping investigation would be instigated.
Chris Froome's urine sample taken after stage 18 of the Vuelta a España is thought to have had a salbutamol concentration of 1429ng/ml.
Professor Fitch now says that he made a "terrible blunder" and was "concerned" by cases such as Froome's.
"If I had wanted to clarify the salbutamol levels of athletes in urine after taking the permitted dose, I would have done multiple studies, administering different doses and collecting urine over a period of time, not just once an hour later," Fitch continued.
"A number have been carried out... but they have shown the problem that the metabolism and excretion of salbutamol is capricious."
>>> Everything you need to know about Chris Froome's salbutamol case
Responding to the questions raised about the current regulations surrounding salbutamol, WADA's head of science Dr Oliver Rabin told the Guardian that the organisation had "no reason to question the rules [and] can see no reason that previous cases have not been handled fairly."
However Professor Fitch says that there should be doubt over previous cases involving salbutamol, such as that of Italian sprinter Alessandro Petacchi who served a one-year ban following a test at the 2007 Giro d'Italia.
"Petacchi was innocent," Fitch continued. "They [Wada] have to accept that the rules need changing,"
Thank you for reading 20 articles this month* Join now for unlimited access
Enjoy your first month for just £1 / $1 / €1
*Read 5 free articles per month without a subscription
Join now for unlimited access
Try first month for just £1 / $1 / €1