Geraint Thomas: 'I'll miss the Classics but my goals are different now'
Thomas says he'll miss being able to ride the Tour of Flanders next week, but is relishing his new GC focus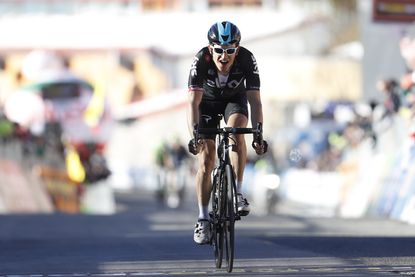 (Image credit: Yuzuru Sunada)
As word begins to circulate among riders, team staff and fans that Yves Lampaert has won Dwars Door Vlaanderen, in the midst of them is Team Sky's long-time leader for the spring Classics, Geraint Thomas.
>>> Chris Froome: 'I'm a little ahead of where I was last year'
The Welshman would usually be battling cobbles and bergs at this time of year, but instead he is in unfamiliar surroundings, warming down next to the Sky bus at the bottom of a ski run in the Pyrenean resort of La Molina.
While skiers flash past on the steep piste that plummets from the top of the mountain, Thomas is reflecting on his performance at the Volta a Catalunya.
It is the latest in several steps programmed to support a challenge for the maglia rosa at the 100th Giro d'Italia, a race he has only started twice before and then very much in the role of a domestique.
As was the case with his last competitive outing at Tirreno-Adriatico, his hopes of overall victory in Catalunya have been set back by Sky's performance in the team time trial.
But, as was the case at Tirreno where he won a stage and finished fifth overall, Thomas is content with the way his team and his own form are progressing.
"The team were really good today," he said at the end of stage three.
"We've got a good climbing team here and I'm also pretty happy with how we rode in the team time trial.
"Technically, we were OK, but we were beaten by better and stronger teams on the day. That was encouraging."
Boosted by that, he explains how Sky had tried to make the climb to La Molina as hard as possible, but had largely been thwarted by the direction of the wind.
Watch: Chris Froome - How I won the Tour
"It was tough to apply pressure on that climb. It's not that steep, it's quite a steady big ring climb, but we still had a go," he says, before confessing to a bit of annoyance at his own performance in the final moments of the stage.
"After the initial kick [inside the final 500 metres], I dropped back a few places. Then, as we came around the last corner, I got stuck on the wrong side of Alberto Contador next to the barriers and I couldn't really go hard in the last 100 metres.
"I definitely wouldn't have won, but you just want to get it all out in a situation like that," he said ruefully.
On the plus side, his progress towards the Giro continues smoothly on. "My legs are definitely pretty good, which gives me confidence in my training. I think another training camp to follow after this and then Trentino will put the final polish on that. I'll be ready to go," he added.
The day before, Sky head coach Tim Kerrison had described the Giro route as ideal for the Welshman, although, with Kerrison looking on, Thomas can't resist a quip.
"I think if I was designing I wouldn't put in quite so many climbs," he said with a smile.
"It's certainly a tough final week, which is where the race is going to be won. It's all about finishing strongly at the end and I'm looking forward to it."
And is he missing the Classics?
"For sure, I might just not watch them. It's Flanders next week and I'm still thinking that maybe I should ask Tim [Kerrison] if I can just drop in," he says, grinning again.
"But, honestly, no I'm not. I'm going to stick to one thing this year and see how it goes. It's a completely different season for me, different ambitions and goals. And I'm really enjoying it."
Thank you for reading 20 articles this month* Join now for unlimited access
Enjoy your first month for just £1 / $1 / €1
*Read 5 free articles per month without a subscription
Join now for unlimited access
Try first month for just £1 / $1 / €1