2011 Giro d'Italia to start in Turin with team time trial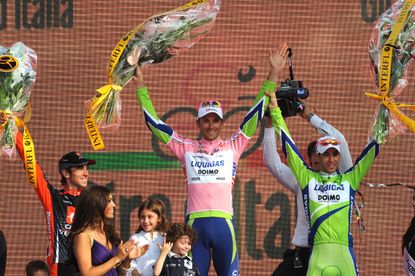 The 2011 Giro d'Italia will start in Turin May 7 with a team time trial, the city and organiser RCS Sport announced today.
They made the announcement from the Royal Palace of Turin, where the 22-kilometre stage will start. It marks two years, in 2009, since the race last began with a team time trial.
Mark Cavendish took the leader's pink jersey after his Columbia-Highroad team won the stage in Venice. He held it for two days and won three stages.
Next year's Giro d'Italia starts in Piedmont's Turin to celebrate the 150th anniversary of the Italy's unification, when the different regions formed as a single state. At that time, in 1861, Turin became the capital city.
The last time the Giro d'Italia started in Turin was in 1961, then celebrating Italia61 or the 100th anniversary of Italy. The opening stage went to Spain's Miguel Poblet and Italy's Arnaldo Pambianco won the overall in Milan three weeks later.
This year's race started in Amsterdam and ended in Verona, where Italian Ivan Basso won his second overall title.
Rome is now the capital of Italy and may host the finish of next year's Giro d'Italia. Organiser RCS Sport has yet to confirm the finish or the other stages.
Rome last hosted the finish in 2009 to celebrate 100 years of the Giro d'Italia. Russian Denis Menchov claimed the overall victory on a stage that passed many of the city's historical sites.
The 2012 Giro d'Italia will be the first to travel outside of Europe if organiser, Angelo Zomegnan has his way. He plans to take his race to Washington, DC, where he has already met with Mayor Adrian Fentry on two occasions.
"We are 50-50 about whether we will go or not. We will make a decision before October," said Zomegnan in May.
"We are also interested in taking it to London for the Olympic year, but no one there has asked us yet. If London came and asked, then we can work on it together."
Also in October, Zomegnan will announce the full route details of next year's race.
Thank you for reading 20 articles this month* Join now for unlimited access
Enjoy your first month for just £1 / $1 / €1
*Read 5 free articles per month without a subscription
Join now for unlimited access
Try first month for just £1 / $1 / €1