We asked the pros: should you wait when a rival has problems?
Giro d'Italia riders and staff say the other GC contenders were right not to wait for Tom Dumoulin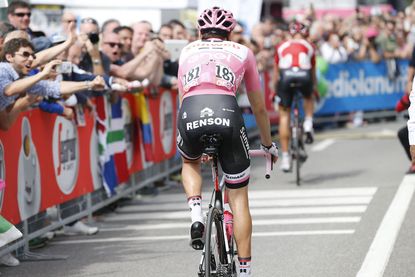 (Image credit: Yuzuru Sunada)
Stage 16 of the Giro d'Italia ended in controversy as Tom Dumoulin (Team Sunweb) nearly lost the race lead after an ill-timed toilet stop, with some saying that the other main contenders should have waited for the pink jersey.
With 35km and one climb to go on the stage to Bormio, Dumoulin pulled to the right of the road suddenly pulled off his pink jersey and helmet and pulled down his black shorts.
Clamour on social media called for the other race contenders to slow and wait for Dumoulin to catch up, but the sentiment among those on the race was different.
>>> Twitter reacts to Tom Dumoulin's ill-timed toilet stop and Movistar's decision not to wait
"If the race is calm and no one is pulling, and one of the big guys has a problem and he talks about it, then I think it's OK to wait," Iljo Keisse (Quick-Step Floors) told Cycling Weekly.
"But if the race is like yesterday, full-gas and the teams are pulling, and he has a problem and doesn't speak to anybody, and he just stops. They don't wait, it's normal."
Dumoulin was quickly back on his bike after his unscheduled stop, but had already lost around 1-30 to the group containing the other GC contenders such as Nairo Quintana.
Watch: Giro d'Italia stage 16 highlights
Keisse explained another way of relieving yourself while cycling involving putting a cap down the back of your shorts, which would mean not losing quite as much time.
"He would've lost 20 to 30 seconds and not two minutes," he continued. "I'm really sorry for him, but if I was a leader, I would've lost 20 to 30 seconds, not two minutes.
"This situation of respect is different with a crash or if you have problems. I'm sure they would've waited if he crashed. You cannot wait for everybody every time."
>>> 'The race was on, we couldn't wait for him' say Tom Dumoulin's Giro d'Italia rivals
Keisse's sentiment was echoed by sports directors at a number of teams.
"When you have a stage like that, a massive stage, and when you come to that point, and you planned your race for that point, you just go," Lotto-Soudal sports director and former cyclist, Willems Frederik said.
"In normal circumstances, with crashes and severe things, [they should wait]. This was a human problem and it's difficult to say. But 10 to 15 years ago, when you had that, you'd just use the trick with the hat."
"It's not written, it depends on the moment," BMC Racing sports director Valerio Piva said. "A crash far from the finish or when they're not racing, OK, but when you are near the finish line... it's a team's decision.
"It is an important stage in the Giro where riders are racing for stages and the overall, so who knows if you are stopping for a problem or just slowing down the race.
"The respect for the pink jersey is one thing, if you crash or something, but this is because you ate something and your body is weak. This is just part of the race."
>>> Five talking points from stage 16 of the Giro d'Italia
Dumoulin, who now leads Quintana by only 31 seconds, said it may have been due to a combination of the first high-altitude stage and too many energy gels. He hopes it passes for today's stage, saying that he had a similar problem in the Tour de France last year and returned to win the Andorra summit finish.
"There's still much respect in the race, but when the race is on, the race is on," said Team Sky's sports director, Dario Cioni. "When we had a problem the other day [with Geraint Thomas and Mikel Landa getting caught in a crash with a race moto on stage nine], no one waited, but they were already pulling for many kilometres, so you can understand.
"There's still respect, maybe less now when a team is working for its leader, and the teams swamp the lead team at the last moment, but respect for the leader's jersey still exists."
"It's a question of thinking and agreement among the riders, it's never something written," former professional rider and Quick-Step Floors sports director, Rik Van Slycke said.
"Respect has changed in all fields, not just cycling. In the past, you'd see respect from the young guys for the men with big palmarès. If you have a guy come into your office, on the first day they are nice, but on the second day, they are telling people what to do. That's a generation thing."
Thank you for reading 20 articles this month* Join now for unlimited access
Enjoy your first month for just £1 / $1 / €1
*Read 5 free articles per month without a subscription
Join now for unlimited access
Try first month for just £1 / $1 / €1