Blanco, the Giro, Gesink and beyond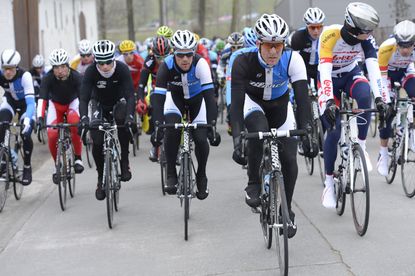 Get The Leadout Newsletter
The latest race content, interviews, features, reviews and expert buying guides, direct to your inbox!
Thank you for signing up to The Pick. You will receive a verification email shortly.
There was a problem. Please refresh the page and try again.
When Rabobank ended its team sponsorship after 16 years, few had seen it coming, certainly few of the riders were aware that the rug was about to be pulled from under them.
Rabobank decided to continue to fund the team for part of the year, honouring its contractual obligations, but the team would ride with no sponsors while Giant, the Taiwanese firm with its European base in Holland, would also continue to back the team.
At the start of the year, the team's Grand Tour leader Robert Gesink spoke of the need to keep the group together as well as the rather more prosaic need to get some decent early season results to attract a new sponsor for a World Tour squad for the following year. It was clear that if the results didn't come and morale and confidence crumbled then elements of the team would be picked off by other squads looking for riders with points and the team would fall apart.
The team's young general manager, Richard Plugge, was in a good position to assess the state of the team at the end of the Classics season and shed some light on the plans for 2014. "I think we did a good job keeping the team together, what everyone saw in the big Classics was that the team was getting in breaks and you could see that the team was a team, it raced as a team, for each other."
The mindset of a set up that had been existence (in some form, since 1984 with Kwantum Hallen) for almost 30 years is hard to alter. However, there were some signs that even when Rabobank was there that the 'under new management' signs really did signify changes.
"We started working on a new structure, the way worked with riders, the way we coach riders and staff is very different from the way Rabobank worked before and six months on you can see and feel the difference," Plugge told us.
"It was a lot of hard work but I think it's paid off. It's a little bit like the way Sky works - maybe - although doing things our way. For example we are working with the Cruyff University in Amsterdam for sports management and coaching, and all the staff work there - our sports directors and the other staff - are working with them to try to find every inch we can where we improve ourselves.
"I believe that especially on the management side - me as well as the head of coaching - you have to look at yourself and ask questions. You are in the same position for ten years and you think it's OK but really, could you do it better? In my job I think someone new has to come along every five years to give everyone a shake and wake them up. We ask the staff OK, you do your job really good - but could it be better in any areas?"
Giro bound
Directeur sportif Frans Maassen, an ex-rider from the WordPerfect and Buckler era who had worked with the young talent - the juniors and the Under-23 teams at Rabobank - switched over to work with the Rabobank pro team in 2011. He was a little disappointed in the results in the bigger races this season, but understands why.
"I think we were all too keen to do well at the start of the season. We did really well, we prepared seven riders for the Tour Down Under and won, but I think that the next group of riders who were to take over were already at too good a level too soon, but with the circumstances that's normal that everyone was so motivated."
In as much as Sep Vanmarcke finished a close second to the all-conquering Fabien Cancellara in Paris-Roubaix, the new team was a few centimetres away from glory, so perhaps the squad doesn't need to feel too down.
And now the middle part of the season is about to get underway at the Giro d'Italia and stage race team leader Robert Gesink (pictured, right) is expected to step up. At a pre-Giro press conference (and after finishing 54th in the Tour of Romandie following a Tenerife altitude training camp), Gesink said, "I would have liked to have built up a bit more confidence in Romandie, but I know from myself that I will usually have a few dips in the week after hypoxic training - the real benefit hits me about a week after - so I am not at all concerned.
"As a team, we rode very well in Romandie and dotted the i's. I'm very satisfied with that. In the run-up to the Giro, I've done everything possible to perform well and I am confident that the goals we have formulated are attainable."
And those goals for Gesink include finishing in the top five in the Giro's general classification which, for a rider with his stage racing pedigree, you wouldn't imagine was unrealistic. In any case, general manager Plugge is confident that the new-look Blanco team (where Bauke Mollema is a spokesman for a Dutch 100% Dope Free anti-doping campaign), will snag a sponsor for 2014 and beyond.
"I think that the team has been racing in a really attractive way, we've been attacking, we've had a lot of television coverage and people have noticed that. We are really in good talks with a number of companies and I'm confident. It's not cheap to run a World Tour team but if you compare that to the media value you get, well, it is cheap. Also, there are some things you can't buy - like a seat in the Directeur Sportif's car in a Classic."
And, if Gesink comes up short in the Giro, it looks like the team's young talent pool is starting to come good. 22 year old Wilco Kelderman finished as best young rider in Romandie after his Tenerife excursion with Gesink and the Giro team - Kelderman will ride the Giro as his first ever Grand Tour. Wins in the Tour Down Under, runner-up in Paris-Roubaix, followed by a best young rider in the Giro and a top five overall for Gesink would surely secure the team's future.
Twitter: @KenBobPryde
Related links
Giro d'Italia 2013: The Big Preview
Goodbye Rabobank, hello Blaco Pro Cycling
Read Cycling Weekly magazine on the day of release wherever you are in the world with our iPad and iPhone edition - International digital edition, UK digital edition. And if you like us, rate us!
Thank you for reading 20 articles this month* Join now for unlimited access
Enjoy your first month for just £1 / $1 / €1
*Read 5 free articles per month without a subscription
Join now for unlimited access
Try first month for just £1 / $1 / €1
Get The Leadout Newsletter
The latest race content, interviews, features, reviews and expert buying guides, direct to your inbox!