Bradley Wiggins shrugs off Giro d'Italia time loss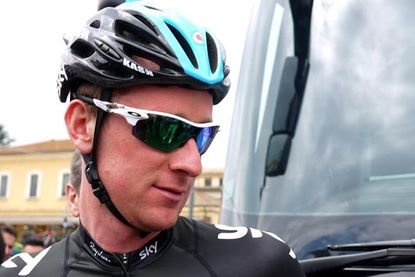 Bradley Wiggins brushed off his time losses in the Giro d'Italia's last two days. Sky's captain saw rivals snap up bonus seconds on Monday and slipped off the back yesterday.
"It's peanuts really in the grand scheme of things," Wiggins told Cycling Weekly. "Those seconds are going to be minutes in Brescia whoever it is that wins."
Wiggins defended himself well down to the Cilento Coast on Monday, but his rivals nabbed the bonus seconds on offer at the finish line. Behind Luca Paolini (Katusha), Cadel Evans (BMC Racing) placed second to take 12 seconds and Ryder Hesjedal (Garmin-Sharp) placed third with eight bonus seconds.
Sky took control yesterday, but Wiggins slipped back after the Croce Ferrata climb in Italy's deep south. In the final wet 6.7 kilometres, he lost 17 seconds to most of his rivals.
At first, it seemed Wiggins would receive the time back as there was a crash in the final three kilometres. However, the jury was able to see from bike transponder times that he was behind already.
"We came over the last climb, where I was in the top five. We came down quite fast, a right turn, I slipped back a bit because it was getting quite spray and I didn't want to take huge risks," Wiggins continued. "Apparently it had already split at three K, which I wasn't aware of. I still chased to the line, even though there was that crash. Just in case, because you never really know if you just sit up."
Sky won the team time trial in Ischia on day two. It helped Wiggins gain 14 seconds on Vincenzo Nibali (Astana) and 25 seconds on Ryder Hesjedal (Garmin-Sharp). Those gains are lost.
"I mean, it is what it is," Wiggins explained. He continued to sign autographs outside the bus. "At this stage it feels a big deal, but we have Saturday's time trial to come, and that's going to be a big one."
As with the black clouds today over Matera, the Giro's results last year are a bad sign. Hesjedal won the race by 16 seconds over Joaquím Rodríguez (Katusha). If Wiggins considers a similar hard fight, where bonus seconds come into play, the seconds lost in the last two days are indeed a big deal.
Related links
Giro d'Italia 2013: Coverage index
Thank you for reading 20 articles this month* Join now for unlimited access
Enjoy your first month for just £1 / $1 / €1
*Read 5 free articles per month without a subscription
Join now for unlimited access
Try first month for just £1 / $1 / €1