Former Giro d'Italia boss Michele Acquarone 'used as a scapegoat'
Michele Acquarone was sacked by Giro d'Italia organiser RCS Sport after huge sum of money went missing, and continues to try and clear his name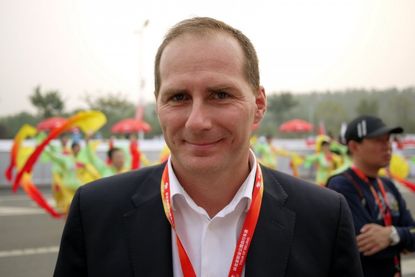 Italy's Michele Acquarone, former RCS Sport manager in charge of the Giro d'Italia, stands firm one year after the media company fired him over €13m in missing funds.
"It's not RCS versus a former employee. Here it's RCS protecting itself keeping the scandal far from the heart of the company," Acquarone said in a letter this month. "In real life big fishes eat small fishes. Always."
Behind ASO with the Tour de France, RCS Sport is cycling's largest race organiser with the Giro d'Italia, Tirreno-Adriatico, Milano-San Remo, Giro di Lombardia and other events. Its existence, however, has been tested over the last year.
In early October 2013, newspaper Milano Finanza reported that €13m or £10.4m went missing from RCS Sport's bank accounts.
RCS Mediagroup made several changes in its sports subsidiary as a result. It suspended and later fired Michele Acquarone. It dismissed Chairman Flavio Biondi for Raimondo Zanaboni. Media relations director Matteo Pastore, Administrative director Laura Bertinotti and CEO Giacomo Catano quit.
Acquarone's term was short. He had only began in the summer of 2011 after Angelo Zomegnan left. With Giro director Mauro Vegni, his goal was to globalise the Giro d'Italia. That was stopped short by the financial scandal.
"On the 16th of September, 2013, an RCS Mediagroup control officer showed me a copy of a bank statement that looked forged. He was very confused and worried," wrote Acquarone.
"The bank's director told us that on April 2012 she personally warned the Financial officers at RCS Mediagroup that a staggering amount of money (cash withdrawals) was gradually disappearing from the accounts of RCS Sport. We were shocked. We immediately gave the internal alarm."
RCS Mediagroup suspended and then later fired Acquarone. The 43-year-old said that RCS used him as a scapegoat, or as he wrote in his letter, that he was simply eaten by a bigger fish.
Acquarone said that Italy's financial police remain on the criminal case, but have yet to place the blame on anyone. He explained that he is innocent because he had "zero connections with the bank".
"I have this black stain on my reputation and it's almost impossible to find a new job. After being violently erased by RCS I was isolated," he continued. "There were several open positions at the UCI within which I could continue to do my job, but all my requests were ignored. If I'm not welcome in Aigle, I'm not welcome in cycling. In the other sports the music is the same, nationally and internationally."
With a lawyer, Acquarone began a case to clear his name. He said that he is out of money, but will continue to fight while RCS Sport's missing millions remains a mystery.
Former Giro d'Italia race director Michele Acquarone hits back at RCS Sport over sacking
Giro d'Italia organiser dismisses race director Michele Acquarone after financial investigation
Giro d'Italia boss Michele Acquarone will skip the 2014 route presentation on Monday due to an investigation into €13m missing
Financial investigation continues in offices of Giro d'Italia organiser, with race director Michele Acquarone in dark about when he can
Thank you for reading 20 articles this month* Join now for unlimited access
Enjoy your first month for just £1 / $1 / €1
*Read 5 free articles per month without a subscription
Join now for unlimited access
Try first month for just £1 / $1 / €1