Giro d'Italia start in Dubai branded as 'impossible'
Giro d'Italia organiser RCS Sport dismisses rumours that the 2015 race will start in Dubai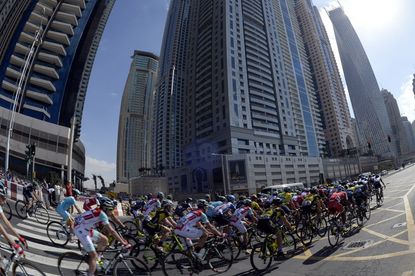 (Image credit: Watson)
The 2016 Giro d'Italia will start in Europe and not Dubai, said RCS Sport. Paolo Bellino, the organiser's general manager, said that the UAE city sits outside its reach.
"They say we are starting in Dubai? That's not the information I have," Bellino told Cycling Weekly. "We are already doing the Dubai Tour. It's not an option to start there. Besides the time difference, it's 40°C in May or June. It's impossible."
After RCS Sport organised the Dubai Tour this February, prompting some to say that the Giro could make the 6,000-kilometre trip to start there one day. According to rumours, the Italian race organiser would announce the 2016 start when this year's Giro stage 11 finished in Savona.
This year, cyclists, staff and journalists flew 3-15 hours from Dublin to Bari and dealt with a one-hour time difference. To compensate, cycling's governing body allowed RCS Sport to add an extra rest day, one more than the usual two, and start a day early.
"If going abroad, with the travel and transfer day, is done well, then I don't see a problem with it," said Gianni Bugno, head of the cyclists' organisation, CPA.
"Dubai is more complicated than Ireland, where we can arrive with our trucks and buses, but we know that events like to take recourse – money. They need to go where the resources are," team Trek's general manager, Luca Guercilena said.
"It wouldn't be that bad to have a couple for stages far away, if the logistics are well organised and we are notified well in advance."
The six-hour flight to Rome and the two-hour time difference, however, present too many roadblocks. The logistical problems become too much for RCS Sport to go any further than Belfast or like in 2012, Herning, Denmark.
"The habit is to go abroad every two years. So given next year is in Italy, in 2016, we could go abroad. Above all, a city or area has to want the Giro. Some are asking for it, but we need to evaluate the logistics. If the start allows us to return easily by plane or return on bike," Bellino said.
"Right now, though, it doesn't like an option to even go outside of Europe in 2016 even if we still remain in the same time zone more or less. I'm not going to exclude it, but it doesn't seem like an option. The logistical problem becomes too big. It was already big going to Ireland, and I think that was at the limit. We extended our reach with the Dublin to Bari transfer."
RCS Sport must look closer to home for 2016. It will announce the 2015 start host, Bellino added, at the end of this year's race on June 1. Though difficult to match, RCS Sport wants to find an Italian city with the same enthusiasm as Belfast showed last week.
Aggressive performance on final climb during Wednesday's stage sees Cadel Evans rise to third overall
Thank you for reading 5 articles this month* Join now for unlimited access
Enjoy your first month for just £1 / $1 / €1
*Read 5 free articles per month without a subscription
Join now for unlimited access
Try first month for just £1 / $1 / €1