Giro d'Italia's Irish start is 'hardest in years'
Three stages in Ireland could create significant time gaps, says Giro d'Italia organiser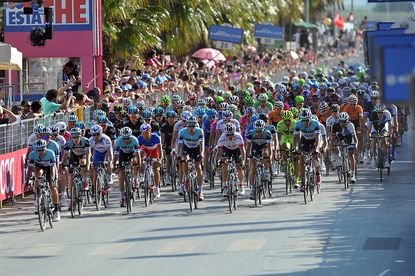 The Giro d'Italia has created the hardest start in years according to race director, Mauro Vegni. He said that the first three days from Belfast to Dublin, before the race even enters its homeland, could create significant time gaps. Besides a team time trial, the cyclists face two technical stages that bad weather should make even worse.
"The wind and weather can put some riders in trouble," Vegni said. "Those cyclists who are still heading towards their top form may be caught off guard."
The sun poked through the clouds briefly today but the wind and rain dominated the day. Forecasters expect the same through the rest of the week, at least until the Giro leaves from Dublin for the warmth and sunshine of Bari in southern Italy.
For the team time trial on Friday, forecasters predict a high of 15°C and westerly winds up to 27kph. Similar weather conditions will create a complicated mix when all 198 cyclists roll away from Belfast for the first road stage on Saturday.
Organiser RCS Sport planned a 219-kilometre stage for Saturday that runs along the northeastern coast where winds should kick up. The 187-kilometre stage on Sunday also runs on the eastern coast before turning inland briefly to finish in Dublin.
"It's going to be harder than in The Netherlands four years ago, for sure, or harder than the start in Denmark in 2012," Vegni said. "Compared to The Netherlands and its position on the sea, the riders have more chances of finding wind and bad weather on the island of Ireland.
"The stages favour the locals. We should watch the stars. Nairo Quintana most of all. Also Cadel Evans, who is experienced racing under pressure."
Cadel Evans and Bradley Wiggins both held the leader's pink jersey when the race started from The Netherlands four years ago. Stressful conditions, however, saw them both lose the jersey before the race returned to Italy.
"I don't know what's going to happen because I haven't raced in Ireland before," Evans said. "They will be a days for the GC contenders to not lose time rather than to think about gains."
"The weather will be a big issue. I hope we can break the stereotype about the rain," Ireland's Daniel Martin said. "The roads should suit sprint finishes. The GC guys will want to stay out of trouble and get to Italy with no damage done."
Thank you for reading 20 articles this month* Join now for unlimited access
Enjoy your first month for just £1 / $1 / €1
*Read 5 free articles per month without a subscription
Join now for unlimited access
Try first month for just £1 / $1 / €1