Giro jury right to punish Richie Porte, says Brian Cookson
UCI president Brian Cookson says that the Giro d'Italia race jury acted correctly in penalising Richie Porte and Simon Clarke after the wheel-change incident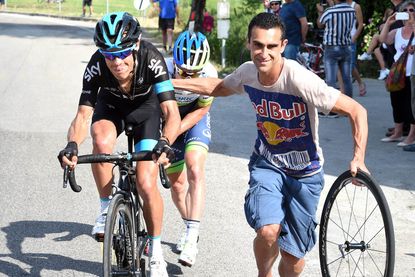 (Image credit: Watson)
UCI president Brian Cookson showed little mercy for Sky's Richie Porte. The Australian received a hefty two-minute penalty on Tuesday for receiving a wheel from rival team Orica-GreenEdge while the Giro d'Italia sped into Forlì.
Porte slipped from third overall at 22 seconds to 12th at 3-09 minutes as a result of the stage 10 incident. He lost 47 seconds to leader Alberto Contador, but that grew to 2-47 when the UCI jury applied a rule that prohibits help from a rival team. In this case, Australian Simon Clarke (Orica) stopped to put his front wheel in Porte's bike while Porte waited for his team-mates at seven kilometres to race.
>>> Twitter reacts to Richie Porte's Giro d'Italia time penalty
"It was an unfortunate incident for everyone, but the rule is there, it's clear, it's not a new rule," Cookson told Cycling Weekly.
"The penalty is quite clear and I think the commissaires acted in the right way."
The four-man jury based its decision on UCI rule 12.1.040 / 8.2, "Non-regulation assistance to a rider of another team". It penalised both Porte and Clarke two minutes in the overall classification and fined them 200 Swiss Francs each.
Critics argue the jury gave Porte the death penalty and ignored the fair play gesture of Clarke. Though much can change in the upcoming week before the Giro finishes in Milan on May 31, the decision essentially turned a three-man Giro battle into a two-man battle between Contador and Fabio Aru (Astana).
>>> Porte the underdog promises to fight back
"The simple fact is the race conduct is in the hands of the jury. It'd be anarchy if the UCI overruled from time to time the decision of the jury. We don't do that," Cookson said.
"They made the correct decision, it was unfortunate for Richie, the team, but the rule is there for a good reason. Riders and teams are professional, one expects them to know the rules."
Television images often show riders pacing themselves back to the group via the team cars, 'sticky bottles' or 'magic spanners'. Many yesterday pointed to Contador taking off his helmet mid-race to change his cap underneath and said that that required an automatic disqualification based on rule 12.1.040 / 3.3.
>>> Twitter goes into meltdown over Contador helmet removal
"It's clear that at times the transgression does not affect the outcome of a race and therefore there are rules where there is some flexibility, but when it happens like this, when a race is full on, near the finish, to a rider who is a contender and at the top positions of the GC, then really the commissaries have no option but to be firm," Cookson said
"While it was a sporting gesture, it could be seen as an unfair gesture, the teams are nine riders, not 10. Would an Australian give his wheel to Aru or Contador? That's why there are those kind of rules, a team is a team."
Clarke said that he had acted on instinct.
"That certainly wasn't my intention [to have Porte penalised]. I was just trying to help a mate," Clarke said.
"You'd never wish someone to puncture in such an unfortunate moment, especially a GC guy who could lose the race for that. I just did what I thought was right, and try to support a friend."
Thank you for reading 20 articles this month* Join now for unlimited access
Enjoy your first month for just £1 / $1 / €1
*Read 5 free articles per month without a subscription
Join now for unlimited access
Try first month for just £1 / $1 / €1