'Not impossible' for Cadel Evans to win the Giro d'Italia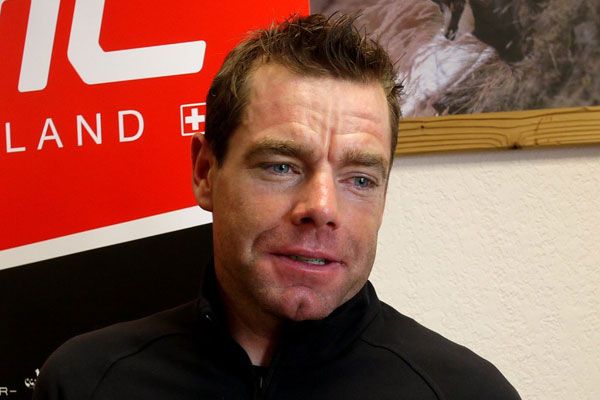 Cadel Evans, one of cycling's warriors, is in a race for time in the Giro d'Italia. Over the next week, the BMC Racing captain must snap up any gains he can and continue to prove himself ready for the Tour de France.
"The reason for me to start the Giro, especially with this illness last year, was to get in a big block of racing. I thought, it'd be good or too much, but I'd rather do too much than too little," Evans said on the second rest day.
"Me being the ambitious rider I am, I'd say it's not impossible to win [the Giro]. I'm greedy and I'm asking more of myself."
The 36-year-old Australian sits second overall and trails Vincenzo Nibali (Astana) by 1-26 minutes after two weeks.
From Naples to the country's north, Evans has proved as durable as ever and erased doubts from last season. A virus ruined most of his 2012 season. He placed only seventh in the Tour de France, where he has claimed three podium spots, including the 2011 win.
Evans, in fact, races the Giro d'Italia to get in tune for the 2013 Tour. Since Naples, he has been vigilant and has proven ready. He and Italy's Nibali have battled back and fourth for time bonuses on offer for each stage finish - 20, 12 and 8 seconds. Each has taken his share, but Nibali more so.
Of Evans' one-minute, 26-second deficit, only 1-14 is due to an actual loss in time. On the 14th leg, Evans lost pace going up the Jafferau and finished 33 seconds back. Nibali placed second that day, collecting an extra 12 seconds.
"It makes interesting racing, but then of course, if it's to your disadvantage you don't like it," Evans said. "At the moment, they've worked to his advantage. Hopefully I can turn that around."
If Evans can conquer Nibali and his rivals behind, like Sky's Rigoberto Urán, over the coming mountains stages he will set himself up as the oldest Giro d'Italia winner.
Fiorenzo Magni currently holds the record thanks to his win in 1955 at 34 years old.
"Experience always helps, but my ability to recover doesn't seem to be what it was a few years a go!" Evans explained. "I had to draw on experience to get to this point where I am now. This Giro is throwing in these things I wouldn't have ever imagined... More than other Grand Tour, it has been a test of teams, nerves. It's been such a test on everyone in the race."
A Giro win would go a long way for cycling's warrior heading to the Tour. Though he should be the protected captain, his younger team-mate Tejay van Garderen is progressing and earning his spot in team BMC Racing's hierarchy.
Van Garderen placed fifth and won the white jersey in the Tour last year. Over the weekend, the American claimed his first stage race title in the Tour of California. It must be something that is on Evans' mind, even if he does not say so.
"I was sleeping all the time, to be honest, when he was racing!" Evans added. "It must be a big win for him."
The Aussie warrior, it seems, is not only in a race for the Giro d'Italia title, but so much more.
Related links
Nibali: One week away from winning the Giro
Giro d'Italia 2013: Previews and race info
Giro d'Italia 2013: Coverage index
Giro d'Italia 2013: British TV schedule
Giro 2013: 10 things you need to know
Giro d'Italia 2013: The Big Preview
Giro d'Italia 2013: Stage reports
Stage 15: Visconti wins Galibier stage
Stage 14: Santambrogio wins and Nibali strengthens lead
Stage 13: Cavendish takes his fourth stage win of 2013 Giro
Stage 12: Cavendish takes 100th win as Wiggins' Giro bid faltrs
Stage 11: Navardauskas wins as favourites enjoy day off
Stage 10: Uran wins as Wiggins and Hesjedal lose time
Stage nine: Belkov takes solo win as Wiggins put under pressure
Stage eight: Dowsett wins as Nibali takes race lead
Stage seven: Wiggins crashes as Hansen wins
Stage six: Cavendish wins stage six of Giro
Stage five: Degenkolb avoids crash to take win
Stage four: Battaglin sprints to first Giro stage win
Stage three: Paolini takes charge
Stage two: Sky wins team time trial
Stage one: Cavendish wins opener
Giro d'Italia 2013: Photo galleries
Photos by Graham Watson
Stage 15 gallery
Stage 14 gallery
Stage 13 gallery
Stage 12 gallery
Stage 11 gallery
Stage 10 gallery
Stage nine gallery
Stage eight gallery
Stage seven gallery
Stage six gallery
Stage five gallery
Stage four gallery
Stage three gallery
Stage two gallery
Stage one gallery
Team presentation gallery