Simon Yates impresses established Grand Tour stars with commanding Giro performance
Yates and his Mitchelton-Scott team have impressed the established GC stars like Chris Froome and Tom Dumoulin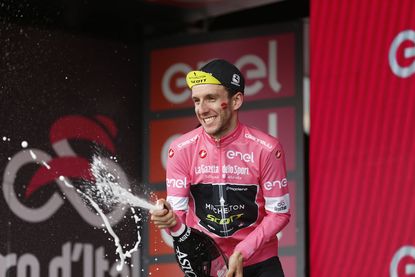 (Image credit: Yuzuru SUNADA)
British Giro d'Italia leader Simon Yates (Mitchelton-Scott) has impressed both Chris Froome and Tom Dumoulin with his Grand Tour improvement.
Yates took the pink jersey lead with a hard acceleration at the end of stage six up Mount Etna. On Gran Sasso, he rode the favourites off his wheels and won the stage to solidify his lead with bonus seconds.
"I think he has [surprised me]," Froome said. "He's showed early season form. I don't think anyone was really talking him up as the contender he's showed himself to be now."
Yates rode to seventh in the 2017 Tour de France, also taking the youth classification, and sixth overall in the Vuelta a España.
Never has Yates ridden in the lead of a Grand Tour, but after nine stages he now leads the Giro with 32 seconds advantage, and that is over his own team-mate Esteban Chaves. Defending champion Tom Dumoulin (Sunweb) sits third at 38 seconds.
Team Sky's Froome, suffering after two crashes, sits 11th at 2-27 minutes.
"He's stepped up a lot," Froome said. "He's carrying himself really well, he's dealing with the pressure, he has a great team around him. He has Esteban in second place there. It's the dream scenario for them."
"I'm not surprised, but he's definitely very good and definitely at a higher level on the climbs than me. That's a fact," Dumoulin added.
"He didn't show that until now. He showed it in one-week races but not in Grand Tours. He's showing that at least in the first nine days he can do it in Grand Tours. We'll see how it goes in the next two weeks, but he's looking good at the moment.
"That was the same for me last year in the Giro, somewhere it has to be your first time fighting for the win in a Grand Tour. I guess this is his first."
Twin brother Adam Yates placed fourth in the 2016 Tour and ninth in the 2017 Giro. In the 2018 season, he will take aim at the Tour de France with Simon having asked for the right to race the Giro.
"Honestly, I do find it difficult," Froome said when asked if he can tell them apart. "I do have to look carefully sometimes."
"Ah, it's difficult," Dumoulin added. "Maybe they are switching! That's why he's so fresh!
"No, but it's very difficult to tell the difference. I always thought Adam was the slightly leaner of the two, but now Simon is at an incredible weight I guess."
Both Froome and Dumoulin complemented the Australian WorldTour Mitchelton-Scott team for such a great ride in the Giro. On Gran Sasso, Yates and Chaves counted on Roman Kreuziger, Jack Haig and Mikel Nieve.
"It's tough to name the favourites," Froome said. "[Mitchelton] are in such a commanding position, they've ridden such a good race so far.
"Simon's been amazing. It's great for us to see another Brit in the leader's jersey. No doubt I'm going to try to give [him] a hard time in the second half of this race.
"Nonetheless, it's nice to see another Brit in pink. And he's got the team to support him. I think he's going to definitely take a lot of beating."
"The Mitchelton guys are looking very strong at the moment, they have the strongest team, by far," Dumoulin explained. "If the situation stays like this, they will control the race. It's going to be very difficult to beat them. Anything can happen, though, you never know."
Thank you for reading 20 articles this month* Join now for unlimited access
Enjoy your first month for just £1 / $1 / €1
*Read 5 free articles per month without a subscription
Join now for unlimited access
Try first month for just £1 / $1 / €1