Wegelius takes a break from past Giro strategies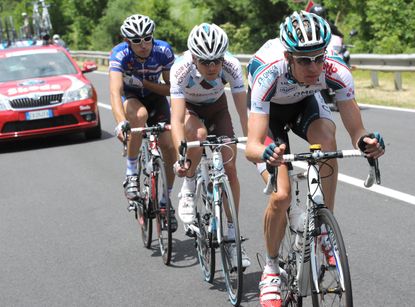 Sat on the steps of his team's bus after today's stage of the Giro d'Italia, Charly Wegelius looked worn out. Between rubbing his eyes, still stinging with the sweat from the first warm day of this year's race, the Yorkshireman was reaching at his calves and improvising a little massage.
It's not surprising really. Along with Hubert Dupont (Ag2r) and Dario Caldato (Quick Step), the Omega Pharma-Lotto rider spent all but 24 of of today's 230 kilometres between Avellino and Bitono out front.
"I went on the hill at the beginning of the race," recalled Wegelius of his attack at 8km that initiated the move. "It's usually really hard for me to get on to a breakaway when its flat - but if it's a little bit uphill then I can manage. I was hoping that a slightly larger group would go. With three it was always going to be quite tough."
Despite the break's survival being up against the odds, Wegelius admitted he'd been inspired by the success of previous breaks in the Giro.
"Already in this race, riders have made it in a breakaway that shouldn't have done," he said. "Once you're there, you've got to try. That's the whole point. Breakaways aren't really scientific things. Sometimes you can get in them when you're creeping and sometimes you don't get in them when you're good.
"You've just got to take your chances when you can," added Wegelius. "Today, three people wasn't perfect, but just getting in a break is hard enough so its not like you can just start thinking about this one or that one."
Wegelius also had additional inspiration for getting in the move.
"I was thinking about my trainer Aldo Sassi this morning," he said. "He's been having a tough time with some serious illnesses - and I was hoping to do something to make him proud of me."
Despite getting reeled in with 16km to go, did Wegelius think he did that today?
"I hope so," he replied.
Today was the not the first time we've seen Wegelius off the front of this year's Giro. On Sunday's stage to Terminillo, he also ventured a lone move in front of the pink jersey group.
"I don't have the same sort of job to do that I've had in the past," explained Wegelius who's previously been on teams working for overall contenders. "I've trained hard and I've got good legs so I've got to try and think of things to do. I need objectives. Otherwise I could quite easily ride around and finish 35th or something - ride well and not win anything which is meaningless. I owe it to myself to try new things."
To try and win stages?
"Absolutely," he replied, "It hurts too much to get in breaks just for the sake of it."
With this approach, it's likely we'll see more of Wegelius out front in this year's Giro. In the past the mountains have been his natural stomping ground. Does he have designs on any particular stages in the Dolomites?
"I don't look at the book [in advance] anymore," he said. "I just take a look at it in the morning and that's it.
"If I've got the legs I'll throw myself in an early break then try and get a lead on the top riders. I'm not the first one to come up with that idea though!"
Related links
Sassi, trainer of Evans and Basso, battles brain cancer
Charly Wegelius: Rider Profile
Giro d'Italia 2010: Cycling Weekly's coverage index
2010 Giro d'Italia coverage in association with Zipvit
Thank you for reading 10 articles this month* Join now for unlimited access
Enjoy your first month for just £1 / $1 / €1
*Read 5 free articles per month without a subscription
Join now for unlimited access
Try first month for just £1 / $1 / €1