What riding the Giro has done for Peter Kennaugh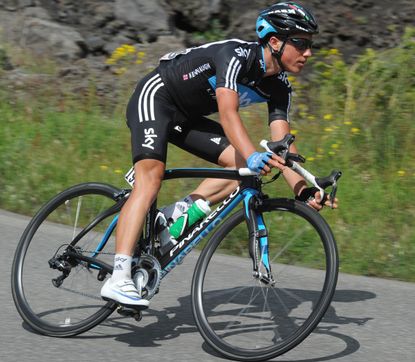 After toughing out three savage days in the Dolomites, including a near eight hour marathon to Gardeccia, Britain's Peter Kennaugh is now full of confidence that he'll be finishing the Giro d'Italia on Sunday.
"There's just five day's left now," he cheerfully noted after yesterday's mountain time trial in Nevegal. "After that stage the other day, a lot of us feel like we can tackle anything!"
Last year Kennaugh started the Vuelta a Espana before the sudden death of a team helper saw all of Team Sky withdraw early in the race. Assuming all goes well over the next few days, the Giro will thus be the first Grand Tour the 21 year old will have completed.
As such, the past two and a half weeks have been something of a learning experience for him.
"Subconsciously you pick things up," he explained. "You've got to be super organised so you can save energy. I've learnt how to ride in the wheels a lot better and when to use my energy. I'm taking care of myself a lot better in the peloton.
Physically, he added: "I feel like I'm getting better as the race goes on. I seem to be recovering really well and riding quite consistently."
Riding a Grand Tour for the first time has also thrown up some surprises for Kennaugh
"You see these guys who come out of Grand Tours and you think they all look really skinny, but I haven't lost weight at all," he noted. "I've actually put on a kilo during the course of the race.
"I came here at 63kg but I've been at 64kg for the whole race. Apparently your body retains fluid to cope with everything. I feel myself leaning up and getting more defined - but you don't actually lose any weight."
Although essentially at the Giro for experience and strength building, his performance has been promising.
Far from spending every tough mountain day in the laughing group, he's been finishing midway down the field.
Consequently, Kennaugh currently lies in 70th place overall; the filling in a Team Sky sandwich between Michael Barry and Morris Possoni.
As an amateur, Kennaugh also showed his talent in the 'Baby Giro'. Without wanting to get ahead of ourselves, could Grand Tour riding perhaps be where his future lies?
"I think you've got to build up a lot of experience and strength in depth before you can start to target these for GC places," he acknowledged. "Maybe Grand Tours will be something I'd like to target in the future. But until then, it'll be about stages and stuff."
Giro d'Italia 2011: Latest news
Millar's time trial practice run
Nibali gives up hope for Giro d'Italia win
Contador ignores Armstrong doping investigation
Giro d'Italia News Shorts (May 24)
Controversial Crostis climb removed from Giro route
Sky leader Lofkvist loses more time at the Giro
Giro contenders struggle with Contador's dominance
Contador widens Giro advantage but Tour doping case waits
Porte reflects, one year after Giro success
Le Mevel goes on attack for Giro's pink jersey
Giro fines Contador for missing press conference
Cavendish responds to 'team car' accusations at Giro
Giro d'Italia News Shorts (May 15)
Giro's Sicilian cyclists proud to face Mount Etna
Contador surprises at Giro with attack ahead of mountains
Contador minds food at Giro as CAS decision nears
Weening supported by Rabobank and model Kroes
Local lad Appollonio bears fruit in Fiuggi
Giro d'Italia News Shorts (May 12 edition)
Blythe finding way in second Grand Tour
Leopard-Trek withdraws from Giro d'Italia
Leopard-Trek uncertain to continue in Giro
Tuesday's Giro stage in memory of Weylandt
Giro doctor describes actions to save Weylandt
Wouter Weylandt killed in Giro crash
Giro news shorts (May 8)
Cavendish likely to take Giro lead tomorrow
Giro 2011: Who will win?
Giro d'Italia 2011: Stage reports
Stage 16: Contador lords it over the rest in Giro TT
Stage 15: Nieve wins mountain marathon as Contador continues at the top
Stage 14: Anton conquers Zoncolan in shortened stage
Stage 13: Contador consolidates Giro overall as Rujano takes stage
Stage 12: Cavendish holds off Appollonio to take second victory
Stage 11: Gadret grabs dramatic stage win
Stage 10: Cavendish opens his Giro account
Stage nine: Contador storms Etna to take Giro lead
Stage eight: Gatto springs late attack to take win
Stage seven: Neo-pro De Clercq wins by a whisker
Stage six: Ventoso steals Giro stage six win
Stage five: Weening holds on to take stage and maglia rosa
Stage four: Tearful Farrar and Leopard-Trek lead riders across stage four finish line
Stage three: Vicioso victory overshadowed by Weylandt crash
Stage two: Petacchi wins as Cavendish takes lead
Stage one: HTC-Highroad wins Giro's opening team time trial
Giro d'Italia 2011: Photo galleries
Stage 16 photo gallery by Graham Watson
Stage 15 photo gallery by Graham Watson
Stage 14 photo gallery by Graham Watson
Stage 13 photo gallery by Graham Watson
Stage 12 photo gallery by Graham Watson
Stage 11 photo gallery by Graham Watson
Stage 10 photo gallery by Graham Watson
Stage nine photo gallery by Graham Watson
Stage eight photo gallery by Graham Watson
Stage seven photo gallery by Graham Watson
Stage six photo gallery by Graham Watson
Stage five photo gallery by Graham Watson
Stage four photo gallery by Graham Watson
Stage three photo gallery by Graham Watson
Stage two photo gallery by Graham Watson
Stage one photo gallery by Graham Watson
Giro d'Italia 2011: Live text coverage
Giro d'Italia stage 16 live text updates
Giro d'Italia 2011 stage 13 live text updates
Giro d'Italia 2011 stage 11 live text updates
Giro d'Italia 2011 stage seven live text updates
Giro d'Italia 2011 stage five live text updates
Follow the 2011 Giro d'Italia live with Cycling Weekly
Giro d'Italia 2011: Start list
Giro d'Italia 2011: Start list
Giro d'Italia 2011: TV schedule
Giro d'Italia 2011: British Eurosport TV schedule
Related links
Giro d'Italia 2010: Cycling Weekly's coverage index
Thank you for reading 10 articles this month* Join now for unlimited access
Enjoy your first month for just £1 / $1 / €1
*Read 5 free articles per month without a subscription
Join now for unlimited access
Try first month for just £1 / $1 / €1