Guide to: The individual sprint
The individual sprint is one of the oldest disciplines in track cycling. It puts two riders on the track racing against each other. First rider over the line wins.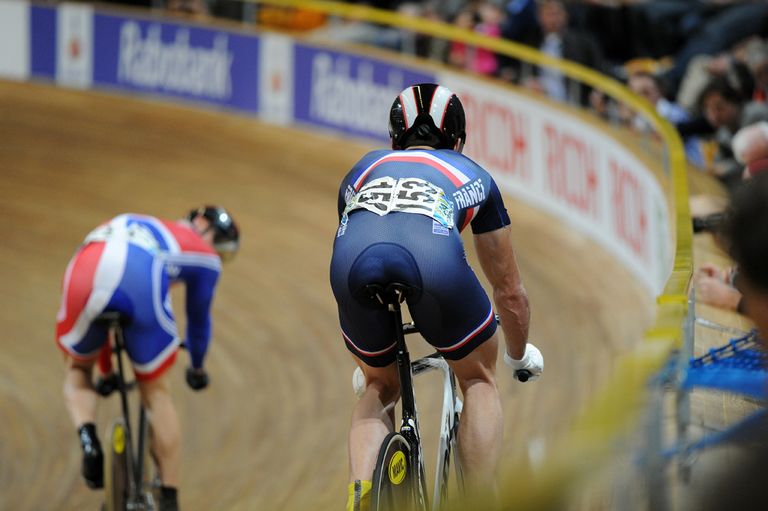 (Image credit: Andy Jones)
The individual sprint is the simplest discipline on the track cycling program. Two riders compete over three laps, the winner being the first one over the line. But the sprint's simplicity hides a vast array of variables that have shaped this race's rich 116 year history.
There are countless tactics that can be applied to this race depending on the type of rider that's competing, their opponent, what their strengths and weaknesses are, the geometry of the track they're racing on and so on. Most importantly, a sprinter must act on their wits.
The standard format is for the both riders to roll away from the start line at no more than walking pace, watching each other intently as they do (the rider lower down the track on the start line must lead for the first half a lap). A sprinter can hold their top speed for a lap and a half, so often the actual sprinting wont start until two laps to go – giving them half a lap to build up speed.
You'll sometimes see riders stay high up the banking, this is so they can drop down the track when they start their sprint gaining greater acceleration. You will also see riders come to a stand still on the track if the leading rider wants to force their opponent to the front.
Very occasionally, and often out of desperation, a rider will go from the gun to try and get a big gap and hold it to the line. A rider will do this if they know they're not as fast as their opponent in the hope that they wont be caught. These are often the most entertaining sprints of all.
Expert opinion – Jan Van Eijden
Former world sprint champion, now British Cycling sprint coach
"The most important thing in sprinting is self-confidence. It's so quick that if you have to think about something, it's too late. You can't hesitate. You can plan as much as you like, but if your opponent does something different that doesn't allow you to put your plan in to action you need to be flexible and make quick changes."There are so many different variations, and you can go in to so much in depth. Basically once you go you should try and go the shortest way. If you get to the front and don't let your opponent past you for three laps you'll be safe, that's the simple way to describe it."
"It's more likely the slower rider will go to the front. If you're slower and you sit behind your opponent and he gets faster and faster you wont get around, so it's very hard to win. So you need to get in front of him and try and stall him or make him go the longer way round. A slower rider will try and stop their opponent getting up to peak speed."A fast rider at the back wants to get their opponent up to speed so that they get the most advantage from sitting behind them. When they open their tank they come with so much speed that they overtake."
Format
A qualification round where riders set a time over 200m (from a flying start) creates an ordered list of 24 riders. It's then knock-out time in the 1/16 finals as the fastest rider races against the slowest, second fastest against second slowest and so on. Three losers will get back in to the 1/8 finals (the next round) via the repechage and from there it's best of three. The riders are whittled down until the gold and bronze medal finals.
Current Olympic champions
Men – Jason Kenny (GBr)
Women – Anna Meares (Aus)