'I'm in good shape, I love the race route': Alejandro Valverde tempted to ride the Tour of Flanders
Alejandro Valverde says that he has not 100 per cent excluded the possibility that he will stay on in Belgium after Wednesday's Dwars Door Vlaanderen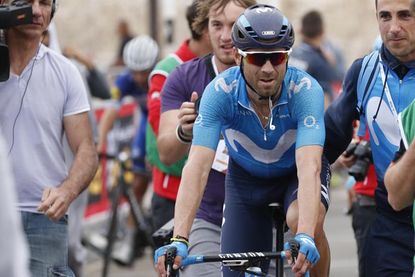 (Image credit: Yuzuru Sunada)
Alejandro Valverde has said that he is tempted to stay on in Belgium after Wednesday's Dwars Door Vlaanderen and race in the Tour of Flanders on Sunday for the first time in his career.
The Spaniard is currently enjoying strong form after bouncing back from a serious knee injury sustained on the opening stage of the 2017 Tour de France that wrecked the latter half of last season.
Valverde has joined Movistar team-mate and fellow Grand Tour leader Nairo Quintana at Dwars Door Vlaanderen principally to gain experience of racing on cobbles ahead of stage nine of this year's Tour de France, which features sections of pavé in what could be a significant stage.
The 37-year-old told Sporza in an interview that it wasn't "100 per cent excluded" that he would ride the Tour of Flanders, even though he hasn't been named on Movistar's provisional roster for the race.
However, with limited time spent racing on Belgium's cobbled roads in his lengthy career, Valverde says he may lack the experience to be competitive.
"I am clearly in good shape, I am strong and I feel like it, but these are roads on which you have to have a lot of experience," said Valverde, who won the Volta a Catalunya on Sunday on the back of victories in the 2018 Abu Dhabi Tour and Volta a la Comunitat Valenciana.
"So it will remain difficult, but I will be cycling around without pressure and I will try to enjoy it as much as possible."
On riding the Tour of Flanders, Valverde added: "It is not 100 per cent excluded, in principle the Ronde is not on my programme, but we are close to Sunday and we are in Belgium..."
One of the older members of the peloton, Valverde says that his age has not dampened his enthusiasm to learn. He says that he will try and follow the wheels of some of the top Classics riders on Wednesday to see how he fares.
"Although I am already a very old rider, I want to learn more here: I want to stay as close as possible to [Greg] Van Avermaet and co, so you will always run less risk and it will be easier to finish in front," he said.
Valverde suffered a broken kneecap after crashing during the 2017 Tour de France's opening stage time trial in Düsseldorf. The roads were wet after heavy rain, and although Valverde has recovered well from the injury, he says that his confidence is still dented when riding in the wet.
"On a physical level I do not feel the consequences of that fall anymore, mentally a bit, and if the road is a little wet because of the rain, then I'm a bit more cautious."
>>> 'You can't imitate racing the cobbles in training': Valverde and Quintana ready for Dwars door Vlaanderen ride
"It will rain in Dwars Door Vlaanderen, which will be a difficult day, so I will try to take as few risks as possible."
Valverde currently sits at the top of the UCI's WorldTour rankings.
Thank you for reading 5 articles this month* Join now for unlimited access
Enjoy your first month for just £1 / $1 / €1
*Read 5 free articles per month without a subscription
Join now for unlimited access
Try first month for just £1 / $1 / €1