Jeff Jones wins Chippenham hardriders time trial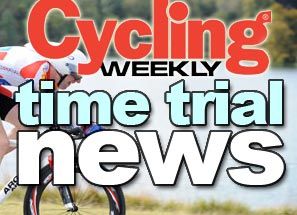 British Best All-Rounder in 2011, Jeff Jones (Drag2Zero.com) secured a strong victory in the Chippenham and District Wheelers hardriders time trial in Wiltshire, clocking 49-05 in the 22-mile event.
Jones was one of just two riders to go under 50 minutes. Rival Rob Pears (Bath CC) was just 12 seconds slower with 49-17, while third spot was Dean Robson (Somerset RC) who was another two and a half minutes off the pace.
Further north another winner of the BBAR title and team-mate of Jones, Matt Bottrill (Drag2Zero.com) broke the course record in the Kettering CC 20-mile event near Islip, Northamptonshire.
Bottrill clocked 42-11 to win by almost two minutes from Liam Stones (MG Maxfuel Pro Cycling), while Matt Sinclair (Lutterworth Cycling Centre) took third, another 45 seconds back.
The Hainault RC staged a hilly 50-kilometre event at Navestock Side in Essex, which attracted a good field and was won by High Wycombe CC's Jonathan Shubert with 1-11-21. His time was good enough for victory by around a minute and a half from the promoting club's Russ Kober.
Elsewhere, In Gear-Quickvit-Trainsharp were celebrating a one-two in the Sussex CA 23-mile event at Handcross.
Conall Yates took the win with 53-45, 21 seconds quicker than team-mate Pete Tadros, while Chris McNamara (Pedal Heaven) was third, another 16 seconds back.
Team Pedal Revolution rider Andy Bason secured victory in the Wrekinsport CC hilly 18-mile time trial staged at Worfield in Shropshire on Saturday.
He clocked 41-12 to win by more than a minute from Stourbridge Velo's Karl Moseley, while Dave Griffiths (Paramount CRT) completed the podium in third place, another five seconds back.
In Derbyshire, South Pennine RC's Charles Taylor took the win in the Matlock CC hilly 25-mile event at Rowsley, clocking 1-02-11 to win by more than two minutes from his nearest rival.
Adam Kenway (Team Zenith) took second, while veteran Steve Gibson (Peak RC) was third, another three seconds off the pace.
Manchester Wheelers won the Nova CC two-up 25-mile event on the Gawsthorpe to Congleton circuit in Cheshire, with Jerry Cross and Scott Burns clocking 55-12.
But they were just two seconds ahead of runners-up Andy Jackson and Carl Ruebotham of Team Swift.
There was a dead heat for victory in the Rossendale Road Club hilly on a 10.3-mile course at Bolton by Bowland in Lancashire on Saturday.
Warren Gell (Cover Your Car) and Craig Battersby (Team Leapfrog) had to share the prize money after both clocking 25-22, while third spot went to John Morgan (Preston Wheelers) who was 11 seconds slower.
Thank you for reading 10 articles this month* Join now for unlimited access
Enjoy your first month for just £1 / $1 / €1
*Read 5 free articles per month without a subscription
Join now for unlimited access
Try first month for just £1 / $1 / €1
Snowdon Sports is a long-established independent sports news agency, which supplies editorial to a range of media outlets - such as Cycling Weekly - as well as sports governing bodies. Snowdon Sports often covers results at Cycling Time Trials events in the UK and has long been a source of information and imagery to Cycling Weekly.