'Hot pants' key to Pendleton and Hoy sprint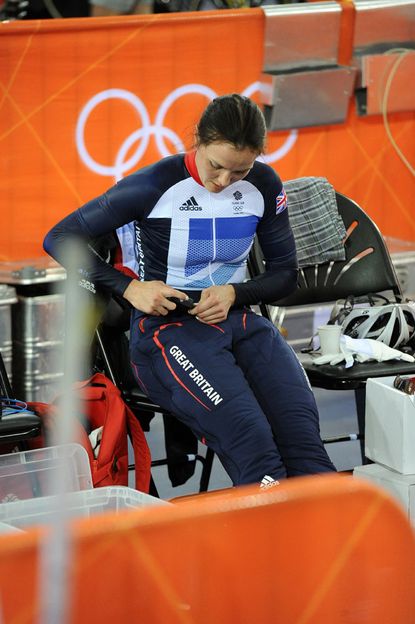 With the men's and women's team sprint competitions opening the track cycling at the London 2012 Olympic Games, one peculiar item of clothing will be on show at the Great Britain section of the pits: heated trousers.
The trousers, nicknamed 'hot pants,' will be worn by Team GB's sprint athletes including Victoria Pendleton and Sir Chris Hoy immediately after their warm-up sessions in a bid to keep their muscles warm and improve their peformance.
British Cycling have long been known for their philosophy of 'marginal gains' and the trousers are no different. In a discipline where just hundredths of a second can come between gold and silver, or no medal at all, every little helps.
"We did several studies measuring the muscle temperature decline that occurs after the cyclists end their warm-up, and we were able to show that with added heating in the insulated trousers it was possible to slow down the decline in muscle temperature while the athlete waits for the event to start," explained Professor George Havenith of Loughborough University.
Havenith led the research behind the development of the trousers with PhD student Steve Faulkner and Dr Richard Ferguson at Loughborough's Environmental Ergonomics Research Centre.
The trio worked with sports brand adidas for three years to establish a scientific basis for the trousers, which are heated by an electric filament to 38ºC using a similar mechanism to an electric blanket.
"By keeping the cyclists' muscles warmer we found a substantial increase in sprinting power that would be of practical benefit to the Team GB cyclists," added Faulkner.
Crucially, the trousers permit the heating of muscles without the athletes having to physically ride their bikes on the rollers and use up vital energy.
The concept is also used in Formula 1 motor racing, where similar devices are used to keep tyres warm before the start of the race and before new tyres are put on the car.
Related links
London 2012 Olympics: Track cycling day one live text coverage
Britain's sprinters look to continue medal haul
Pendleton warms up for London 2012
London 2012 Olympic Games: Coverage index
Thank you for reading 5 articles this month* Join now for unlimited access
Enjoy your first month for just £1 / $1 / €1
*Read 5 free articles per month without a subscription
Join now for unlimited access
Try first month for just £1 / $1 / €1
Richard Abraham is an award-winning writer, based in New Zealand. He has reported from major sporting events including the Tour de France and Olympic Games, and is also a part-time travel guide who has delivered luxury cycle tours and events across Europe. In 2019 he was awarded Writer of the Year at the PPA Awards.