London 2012 velodrome nears completion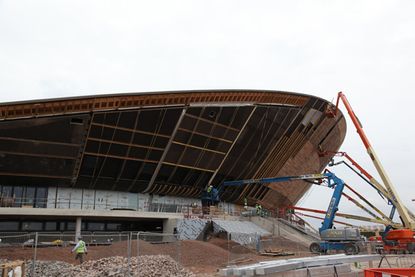 The new velodrome for the 2012 London Olympic Games will be the first venue on the Olympic Park to be completed.
With the cycle track now laid and work on the finishing touches well under way, the Olympic Delivery Authority is expecting to hand over the facility to the London Organising Committee as soon as January 2011.
Cycling Weekly paid a visit to the velodrome in late September as carpenters worked on smoothing over the surface of the boards and erecting the outer track fencing.
Cedar panelling was being applied to the exterior of the building to give a classy dark wood finish.
With its 'Pringle' roof, smooth curves, vast interior and plentiful use of glass, it's shaping up to be one of the most impressive velodromes in the world.
Workers on the distinctive curved roof
Cedar cladding is being applied to the exterior
An army of workers prepare the outside surfaces
Inside, finishing touches are being made to the track surface
Track perimeter fencing
Two workers show the scale of the velodrome interior which will seat 6,000 spectators


Wood for the track surface and perimeter fencing
Steps leading into the track centre
Spectators arrive at the track early to get the best spot
Landscaping the outside of the velodrome, due to be the first London 2012 facility to be finished


Related links
London 2012 Olympic Games: Cycling Weekly's news index
Thank you for reading 5 articles this month* Join now for unlimited access
Enjoy your first month for just £1 / $1 / €1
*Read 5 free articles per month without a subscription
Join now for unlimited access
Try first month for just £1 / $1 / €1