Ron Webb: The Big Interview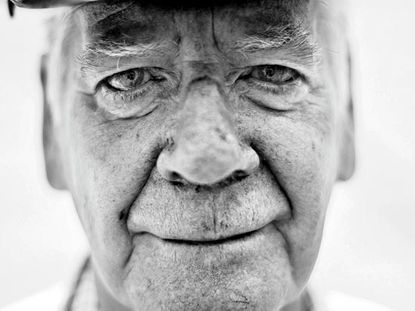 Get The Leadout Newsletter
The latest race content, interviews, features, reviews and expert buying guides, direct to your inbox!
Thank you for signing up to The Pick. You will receive a verification email shortly.
There was a problem. Please refresh the page and try again.
Cycling Weekly: How did you first get involved in building tracks?
Ron Webb: When I was a cyclist I came from Australia to live and race in Holland for seven or eight years. We used to travel to events, and sometimes you'd only arrive at a stadium an hour before the event. You'd get on a track to look for a riding line and I would think there were good tracks and bad tracks and it was just luck whether you got a good or bad one. Then I started to realise there were a lot of people building tracks that had no knowledge of cycling.
For 12 years I promoted the Skol Six in Wembley and events in Denmark and Hanover. Other promoters started asking me if I'd build their tracks in Europe: Bremen, Maastricht and Frankfurt. Then I thought I should look a bit of closer at this. So I started building permanent tracks. It was something I'd do out of necessity then after a while it became my baby. Athens track [originally built 1990] was the first one I had a hand in designing. From then on I designed and built all my own tracks.
What characteristics define a Ron Webb track?
RW: I go for a shape that I thought as a bike rider was the best to ride on. There are tracks with very short straight and tracks with very long straights and I think mine is a good compromise. The track is exactly the same from bottom to top. The same width all the way round.
Will you be coming to watch the Olympics?
RW: Oh yeah. I put my name on the list to buy tickets. I'd like to bring my wife and friends.
As an Aussie based in the UK, who will you be cheering?
RW: I'm non-committal. I act as a consultant for the cycling section of the Australian Institute of Sport but for me the best bike riders on the track are the ones who should win bike races and they are the ones I will be cheering for. Between Britain and Australia there should be a good carbuncle of medals. But you can never trust the French - they always get better.
There are a number of other nations coming through as well now...
RW: If you look at Beijing, Chris and Vicky and all those who won gold medals, it's so wonderful. But whatever you do, you raise the bar. Other people come up
to standard. Like Denmark, New Zealand.
Rob Webb at the trackside, London 2012 velodrome
Why do you think we have seen those nations coming through?
RW: They've also got a couple of good tracks now. I think if we look at [track] cycling, it's a facilities-led sport now and for those countries that don't have the facilities for training, it's difficult. The chances of seeing someone coming from Africa or even America where they don't have those sorts of facilities are very low. It's making it more elitist and that's not a good idea with the Olympics. It doesn't fit with the Olympic ideal - but I think that is long gone.
How could cycling reverse that?
RW: To keep grass-roots going. If you keep those local tracks going. Kids of nine, 10, 11 years old, they don't know who the big stars are; they just want to beat each other. That's what we all did when I was young. We should have more two-wheel centres around the country - in a park, with criterium circuits and all. Bike riding out on the road is becoming intimidating. Cycling is also technically a very expensive sport. One of the best things about Manchester, Newport and Calshot is that kids can rent a bike and get out there on the track.
What happens when you finish building the London Olympics track?
RW: I'd like a quiet life. What I'd like to do now is retire properly and sit on a nice white beach in the South Seas and watch the grass skirts go by!
Thank you for reading 20 articles this month* Join now for unlimited access
Enjoy your first month for just £1 / $1 / €1
*Read 5 free articles per month without a subscription
Join now for unlimited access
Try first month for just £1 / $1 / €1
Get The Leadout Newsletter
The latest race content, interviews, features, reviews and expert buying guides, direct to your inbox!