The secret tech that GB cyclists will use to win gold in Rio
British Cycling has lots of special equipment we expect to be unleashed at the Rio Olympic Games, all in a bid to save precious seconds and help deliver Gold. Here is what we know...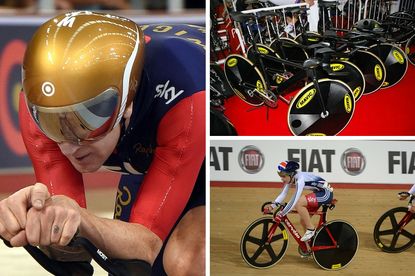 After narrowly losing out to Australia in the 2016 final of World Championship Team Pursuit, Sir Bradley Wiggins remarked "I'll put my house on it, I'll say we'll win in Rio now. I'm confident and I just think we will."
His confidence was likely to be in part, because Ed Clancy was not on top form, having recovered from back surgery. However, the sharp eyed amongst you may have noticed several key details regarding the kit being used at the World Championships.
>>>Where to watch all the cycling action from the Rio 2016 Olympics
We all joke about marginal gains on the club run, however when you consider how small the winning margin can be in the pursuit, the equipment used becomes hugely significant. Here we present a list of tech and equipment that we believe the GB athletes will be using at the Rio Olympics in order to give them an edge.
Bikes
While in previous Olympics the British team have used UK Sports Institute (UKSI) track bikes, in Rio 2016 the team will be using the Cervelo T5GB.
This bike has been specially developed for the Olympic games, and appears to have been based around the Canadian company's P3 time trial bike rather than the existing T4 (that was ridden to gold in the London 2012 Omnium by Denmark's Lasse Norman Hansen).
Specific details about the new bike are thin on the ground, but the team have dismissed reports that there have been a number of problems surrounding the T5GB, including a flexible frame and brittle handlebars, with riders still training on old bikes up until a couple of weeks ago.
Skinsuits
The difference between a standard lycra skinsuit and the worlds fastest suit is huge. When you consider that the biggest obstacle riders face is drag and that most of the drag is created by the rider, what the rider is wearing becomes hugely important.
For Alex Dowsett's Hour Record, Movistar reportedly tested 57 different suits to find the optimum. This appears to have paid off, as he not only smashed the hour, he also recently broke the National 25 record.
Watch: beginner's guide to the team pursuit
When asked about the difference between a standard skinsuit and a cutting edge suit, aerodynamacist and engineer Simon Smart informed me that "although there are a lot of variables involved, such as rider size, I would expect to see a difference of at least 10 watts at 30 mph, and its not uncommon to see a difference as high as 30 watts."
>>> Chris Hoy backs Bradley Wiggins to win gold in Rio
At the 2016 World Championships, British athletes were wearing standard Adidas skinsuits, but on the track in Rio they will be wearing a brand new suit that is said to cut three seconds off their time in the Team Pursuit, perhaps one of the reasons that they reportedly broke the world record in training last month.
The skinsuit, which hasn't been used in competition yet, will follow a UK Sport patent filed in 2013, featuring raised chevrons on the backs of the sleeves and legs, spaced 50mm apart to disrupt the flow of air.
Chains
There has been considerable attention placed upon chains and optimising drivetrain efficiency. Muc-Off spent considerable time developing a process to measure and optimise the efficiency of bike chains.
Using hydrosonic baths and the most advanced lubricants, top end chains can be something in the region of 5-6 watts more efficient than standard ones. At £147 the Muc-Off chain isn't cheap, but we feel the Olympics is a special enough occasion.
Helmets
British Cycling currently has a deal with Lazer Helmets, with all the riders wearing them at the 2016 World Championships. However at the London Olympics the riders were wearing custom UKSI helmets, developed by the so-called 'Secret Squirrel Club.'
We expect the team to unveil new helmets today in Rio, perhaps air dusts on the rear of the helmets, or having a similar design to the raised chevrons of the skinsuits.
Socks
We previously reported on how the GB pursuiters had stopped wearing socks in competition. The question is why? Fashion statement? Aerodynamic advantage? Or mind games?
Aerodynamics expert Xavier Disley of Aero Coach Ltd told Cycling Weekly that "choosing to ride without socks is not a terrible decision from an aerodynamic perspective but there are faster options out there. Bare legs are faster than normal socks but not faster than the special ones Wiggins had on [for the Hour Record]."
Will we see GB athletes wearing special socks at Rio? Time will tell. As for the shoes, we may have seen them already.
Shoes
While competing at the European Track Championships in Grenchen, Switzerland the Olympic time trial champion was seen to be wearing a new pair of custom carbon shoes.
Exact details of the shoes remain sparse but comparisons with Adam Hansen's one piece custom shoes can be made. The shoes appear to be very light featuring custom moulded carbon fibre with a simple lace up closure design.
Watch: how much speed can you buy?
Tyre warmers?
Okay, this last one is highly unlikely and a little ridiculous - we doubt that anyone will be using tyre warmers at the Rio games. However, they are a common sight in Motorsport and it is well established that the rolling resistance of a tyre decreases when it has warmed up, saving precious watts. It is possible that in the future we see top level track cyclists deliberately warming their tyres prior to a race.
What does all this add up to?
In sport, psychology is huge and going into an event thinking that you will already be faster is more than likely going to take some pressure off and has the potential to provide a placebo effect. It is similar to sensation of training on your rusty winter hack and then jumping onto your lightweight slippery summer steed.
Consider that the men's team pursuit winning margin was just 1.129 seconds at the 2016 World Championships. All these margins that the team didn't use could feasibly add up to a winning time. Knowing that they could have won at the World Championships, had they used all this tech is a big psychological advantage.
That is of course, unless the Australians use all the same tech and level the playing field. With a bit of luck they will be too busy watching Neighbours and chucking things on the 'barbie' to notice.
What we do know, is that there is UCI rule stating that "bicycles and their accessories shall be of a type that is sold for use by anyone practising cycling as a sport."
This means that any of the equipment or clothing has to be commercially available to you or I. However don't expect to find this kit down at your local branch of JD Sports next week as the UCI also states that "no minimum production quantity or minimum price is defined for either bicycles or any component parts."
Thank you for reading 20 articles this month* Join now for unlimited access
Enjoy your first month for just £1 / $1 / €1
*Read 5 free articles per month without a subscription
Join now for unlimited access
Try first month for just £1 / $1 / €1