Chris Hoy backs Bradley Wiggins to lead Great Britain to team pursuit gold in Rio
Sir Chris Hoy says says the Wiggins factor in the Great Britain squad could give them the edge over their rivals at the Olympics in August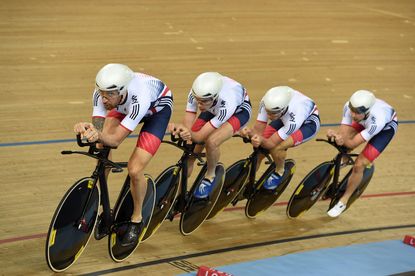 (Image credit: Andy Jones)
Sir Chris Hoy is confident his fellow knight of the realm Sir Bradley Wiggins will come away from the Rio 2016 Olympic Games with his fifth gold medal, with the presence of the 2012 Tour de France winner also likely to spur on his teammates to success.
Hoy, Britain's most successful ever Olympian with six gold medals, says the men's team pursuit performance at the World Championships shows that the squad is in a good position to beat Australia to gold for the third Games in a row.
And with Wiggins prepared to put his house on standing on top of the podium in August, Hoy is sure that we will hear the British anthem played in the Rio velodrome.
Hoy, speaking to Cycling Weekly to promote the difference National Lottery funding has made to sport, said: "I think we're in a strong position and that the team [pursuit squad] are in the ascendency. Look at all the riders in the team – Bradley in particular - they're only going to get stronger between now and the Games.
"He's already stated that he'll put his house on the fact that they'll win gold in Rio and I don't think that was just bravado. At first I thought it was a bit of mind games but I don't think it is.
"Historically, whenever Bradley states a goal he tends to achieve it, and you certainly don't bet against him achieving what he says he wants to do. The Australians have had two Games in a row and they'll really want to win. The one thing for sure is that it's going to be a close battle and a really great thing for the fans."
Watch Sir Bradley Wiggins pass his minute man in the Hull 10-mile time trial
When Wiggins turned his attentions to the road after Beijing 2008 he went on to become Britain's first Tour de France winner in 2012. Then he won his fourth Olympic gold in the time trial several weeks later, before adding the World Championship time trial title to his impressive palmares in 2014.
With his attentions returned to the track for 2016, Wiggins could win his eighth Olympic medal in August, which would put him above Sir Chris in the cumulative tally.
>>> Sir Chris Hoy's golden training rules
Hoy believes that while Wiggins will have an important impact on the team pursuit, the presence of one of Britain's best ever cyclists in the camp will have further reaching effects.
"[Wiggins being there] takes the pressure off a lot of the other riders because they're not in the spotlight," Hoy added. "Whenever he's there the media are swarming around him. That's a good thing because he can deal with it.
"You also gain strength from having iconic members in your team. I remember when Jason Queally won the gold medal in Sydney and I was riding the team sprint with him the next day. To race with an Olympic champion by your side makes you feel that little bit taller and stronger and it'll be the same with Bradley.
"Having someone of his stature in the team will help them. The only downside is that there's one less place for the rest of them to fight for."
The National Lottery are offering an exclusive opportunity for you and a guest to train at the National Cycle Centre in Manchester with world and Olympic champion cyclist Laura Trott.
Under Laura's watchful eye, you will get the opportunity to experience cycling in the velodrome itself, where Britain's golden cycle team hone their skills ahead of the Rio games this summer.
Laura is one of 1,300 athletes funded by The National Lottery on UK Sport's World Class Programme, which provides superb coaching, facilities and medical support.
To win simply vote on the Whichit in this link and answer one simple question before the closing date on March 16.

The prize includes return train travel to Manchester, overnight accommodation at a four star hotel in the city, a one hour training session and Laura, lunch and a tour of the National Cycle Centre on Monday 21st March 2016 and a £200 Evans Cycles voucher.
Thank you for reading 20 articles this month* Join now for unlimited access
Enjoy your first month for just £1 / $1 / €1
*Read 5 free articles per month without a subscription
Join now for unlimited access
Try first month for just £1 / $1 / €1