Icons of cycling: UK Sports Institute track bike
We sing the praises of a machine that strikes fear into the hearts of Team GB's rivals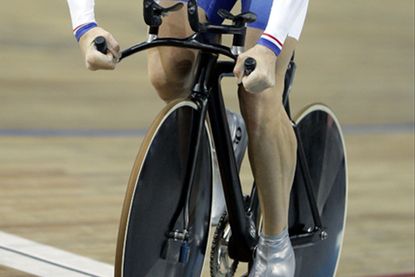 The New Zealand rugby team perform the haka to intimate their opponents before an international. The Great Britain cycling team have no need of an ancestral war dance before a track meet.
A mere glimpse of the all-black UK Sports Institute track bike with its Darth Vader-like presence has the same effect.
In the gladiatorial arena of the velodrome, believing your bike is faster than the opposition's — combined with the opposition believing it too — is the difference between gold and silver. And of course, in Team GB's case, it actually is faster.
Since 2002, Team GB's equipment has been the envy of the world, with the track frame the centrepiece in a collection of awe-inspiring custom components. The bike is now on MkII and is constantly being tweaked, but the blueprint remains the same.
The year after Jason Queally won gold in the kilo at the Sydney Olympics, the British Cycling Federation asked engineer Dimitris Katsanis to produce a new frame. Up to that point there had been no dedicated equipment programme.
Indeed, Chris Fields, the creator of the Hotta Perimeter that Queally used in Sydney freely admitted it had been designed in his garage.
Although this very British approach had famously borne fruit for Graeme Obree, now with lottery funding beginning to bolster its R&D budget and with Australian, American and German federations already having invested large sums in dedicated team bikes, it was time for Team GB to raise the bar.
Katsanis studied composites engineering in Britain and had an array of carbon-fibre creations for national sport teams to his name when British Cycling called. He'd also been a national level track sprinter in his native Greece, so had an insight into the demands elite athletes made on their machines.
Record-breaking debut
The now-legendary matt-black frame he presented to Team GB wasn't a radical shape — Katsanis had said he didn't want to risk the UCI banning it — but it was fast.
Sir Chris Hoy immediately set new PBs on it and won gold at the 2002 Commonwealth Games kilo, where it was debuted.
Contrary to the conspiracy-minded mutterings from Team GB's rivals, and despite the red herrings thrown in their path by Chris Boardman's 'Secret Squirrel Club', there was no real secret to the UKSI bike.
Its tube profiles were simply as efficient as possible within the UCI's parameters and it was made from better quality carbon-fibre than was commercially available at the time.
Its performance was improved yet further by the specially developed bars, stems, chainsets and skinsuits that accompanied it.
Thank you for reading 20 articles this month* Join now for unlimited access
Enjoy your first month for just £1 / $1 / €1
*Read 5 free articles per month without a subscription
Join now for unlimited access
Try first month for just £1 / $1 / €1