Steve Cummings delighted with late inclusion in GB Olympic road race squad
Cummings looking to move forward now after initially being over looked for a spot, and is determined to bring back a medal with the GB team from Rio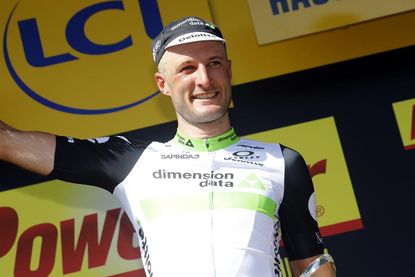 (Image credit: Watson)
Steve Cummings (Dimension Data) began the Tour de France expressing his anger at being overlooked for selection for Great Britain's road team for the Olympics and is set to end it with Rio de Janeiro as his next destination.
Speaking before the start of stage 17 the day after British Cycling and the British Olympic Association confirmed he will be replacing Pete Kennaugh in the five-man road team, Cummings was all smiles.
>>> Mark Cavendish pulls out of Tour de France
"Of course I'm delighted," he said of the decision. "The Olympics are special. I'm really looking forward to going there with the other lads and doing the best job we can to get the medal between us."
Cummings said it was time to draw a line under the widespread debate and anger that arose from his non-selection. "I think the important thing now is that I'm going and we can just get on with it."
Watch: Steve Cummings win at the Tour de France
The Merseysider said he was looking forward to joining up again with teammate Mark Cavendish in Rio and backed the Manx sprinter's decision to leave the Tour to prepare for his next challenge of winning an Olympic medal on the track.
"The last two weeks have been brilliant. It's been an honour and a pleasure to ride with Mark. Of course we'll really miss him, but we totally understand why he had to go and we wish him well. Hopefully he'll come back from Rio with a medal," said Cummings.
He added that Dimension Data's riders will continue to look for stage-winning opportunities over the remaining days of the Tour. "I do think it's important to be at the front today [stage 17] and try to get into the breakaway," he explained.
"The final climb is super difficult today so if you stay in the bunch with the GC riders you're not going to do anything. And even if you do make it into the breakaway it depends who else is in there. If there's a really good climber then you've just got to save your energy for another day."
Thank you for reading 10 articles this month* Join now for unlimited access
Enjoy your first month for just £1 / $1 / €1
*Read 5 free articles per month without a subscription
Join now for unlimited access
Try first month for just £1 / $1 / €1
Peter Cossins has been writing about professional cycling since 1993, with his reporting appearing in numerous publications and websites including Cycling Weekly, Cycle Sport and Procycling - which he edited from 2006 to 2009. Peter is the author of several books on cycling - The Monuments, his history of cycling's five greatest one-day Classic races, was published in 2014, followed in 2015 by Alpe d'Huez, an appraisal of cycling's greatest climb. Yellow Jersey - his celebration of the iconic Tour de France winner's jersey won the 2020 Telegraph Sports Book Awards Cycling Book of the Year Award.