Paddy Power are already taking bets on the UK National Hill-Climb Championships
The Irish bookmaker received in excess of 500 bets on the autumn championships last year.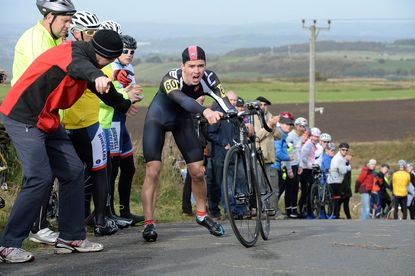 (Image credit: Andy Jones)
The 10- and 25-mile RTTC national time trial championships haven't even taken place yet, but with more than 100 days still to go, bookmaker Paddy Power have begun taking bets on the National Hill-Climb Championships.
The race - on Bank Road, Matlock - isn't until October 30 (not October 23 as Paddy Power advertise) but it seems that the Irish bookmaker are keen to exploit their new-found market once again.
>>> What does a Cannondale hill-climb bike weighing 4.9kg look like?
Last year, at the request of a friend of 2014 champion Dan Evans, they took bets on a handful of riders which quickly became more popular than they envisaged, as in within days they had increased their pool of riders and also began taking bets on the women's race.
In total, they received more than 500 bets - more than they do for a typical Tour de France stage. They promised to offer odds again and they have been true to their word.
Even though the hill-climbing season doesn't start until September and really get going until October, the bookies have Evans as 11/8 favourite for this year's championships. Last year's winner, Richard Bussell, is priced at 5/1, while Matt Clinton, national champion in 2008 on Bank Road, is rated as 8/1.
>>> How to ride faster up short, steep hills (video)
To view the odds, click here. Best get dieting, hill-climbers, while we study predict your form.
Thank you for reading 20 articles this month* Join now for unlimited access
Enjoy your first month for just £1 / $1 / €1
*Read 5 free articles per month without a subscription
Join now for unlimited access
Try first month for just £1 / $1 / €1