Parts of the Tour de Yorkshire route are currently covered in snow
Snow has been falling over some parts of the Tour de Yorkshire route on Tuesday, but the weather is expected to get a little milder by the time the race starts on Friday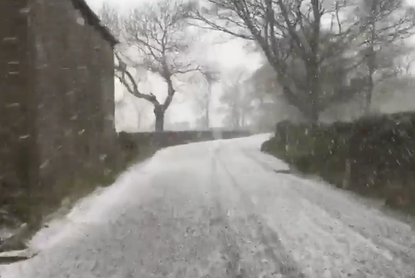 It's not just at the Tour de Romandie where cyclists are having to deal with snow, those out on a reconnaissance of the Tour de Yorkshire route also found the roads covered in the white stuff.
As England is subjected to an unseasonable cold snap, the north of the country seems to be faring worst, with snow and hail falling for much of the day on Tuesday.
VeloViewer's Ben Lowe tweeted a video of the drive towards Settle, where the snow had (ahem) settled on the roads and the car was being pelted with huge hail stones.
Meanwhile, a picture of a race route signpost half obscured by snow was also doing the rounds on Twitter. Dani King joked that she'd pack her bikini, but temperatures are set to get a little milder by the weekend.
In Middlesbrough the snow was also pretty thick, which will hopefully clear by the time stage three starts there on Sunday.
Snow is set to turn into rain at the end of the week, with temperatures rising to the high single digits. So it won't be warm, and it might not be dry, but it hopefully won't be snowing.
Thank you for reading 20 articles this month* Join now for unlimited access
Enjoy your first month for just £1 / $1 / €1
*Read 5 free articles per month without a subscription
Join now for unlimited access
Try first month for just £1 / $1 / €1