Peter Sagan: 'For me cycling is a boring sport, and as a fan I only watch the last five kilometres'
Sagan says he 'doesn't get' why professional cycling believes people want to watch long stages with no action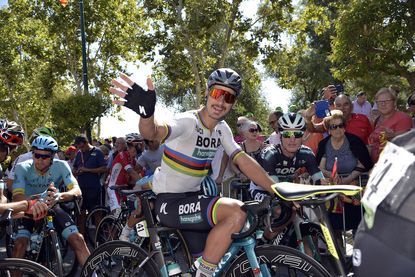 (Image credit: Yuzuru SUNADA)
Peter Sagan (Bora-Hansgrohe), who sprinted to second in the Vuelta a España's final stage in Madrid last night, admits it must be "a boring sport" for fans to watch.
The three-time world champion raced the three weeks but could not manage another victory in his rainbow jersey. He finished second in four stages, but fans may have been asleep for most of it he says.
>>> Vuelta a España 2018 ratings: How did each team perform?
"I don't know how to explain it," Sagan told El País.
"An example: if I watch a 200-kilometre race on TV, I'll turn the TV on at 100 kilometres from the finish line, and the races are always the same, and 20 kilometres from the finish line, the same... But from 100 to 20 to go, two hours have passed, you're in front of the TV without anything happening.
"If you look only the last 10 kilometres, five or one, everything changes at full speed, even in the sprint stages... But if you turn it on at 100 kilometres, you fall asleep, right? Then, you wake up at 10 kilometres from the end and you're curious to see how it ends.
"Do we think the people like this? I don't get it. For me it is a boring sport, and I as a fan, I only watch the last five kilometres."
Sagan's Bora-Hansgrohe team are as guilty as the rest of the sprint teams. They helped pace Sagan in the meat of the stages – when fans could have taken a siesta – in Spain and this summer in the Tour de France, where he won three stages.
The Tour organiser now broadcasts stages live from start to finish so fans can see the first kilometres when teams fight to control and make the escapes. Afterwards, teams usually follow a pattern of letting the escape gain a certain amount of time before they raise the pace and pull it in ahead of the finish line.
Sagan raced the Vuelta for the first time since 2015 and completed it for the first time since 2011. He hoped to build his form for the World Championship road race in Innsbruck and win again in the rainbow jersey.
"I wanted to finish it for myself, because it's the end of the season. Because there are Worlds, and I prefer to finish here, train here, before I go home to Monaco and train there And what do I do there? Nothing."
He said he has no hopes of winning a fourth world title on a course with nearly 5,000 metres of climbing.
"It is very hard for me," Sagan explained. "I go there more to be a presence and to wear the Slovakian jersey. I owe it to my country. Let's see what happens, but I do not go there with hope."
Thank you for reading 20 articles this month* Join now for unlimited access
Enjoy your first month for just £1 / $1 / €1
*Read 5 free articles per month without a subscription
Join now for unlimited access
Try first month for just £1 / $1 / €1