'Piglets charge for the line' - the best lead-out at the Tour de Normandie isn't from the riders
Photos have been shared online of a wild boar and its family of piglets temporarily halting the Tour de Normandie convoy.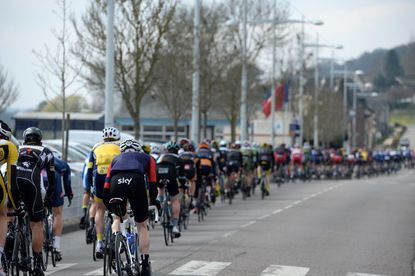 Two of the opening four stages of this week's Tour de Normandie in France have been settled by bunch sprints - but it turns out the cycling teams may have a thing to learn about slipstreaming and lead-out trains.
British UCI Continental teams JLT-Condor and Madison-Genesis are once again taking part in the seven-stage northern French race, and the former outfit have enjoyed a promising first four stages: Steven Lampier sits seventh overall, and Ali Slater tenth, while New Zealander Alex Frame has continued his eye-catching form with two fifths and a seventh place.
But the real talking point at yesterday's stage four was not the win for Justin Jules (WB Veranclassic Aqua Protect), but rather what JLT-Condor tweeted.
As you can see, eleven riders, I mean piglets, were following the charge of their main lead-out rider piglet, causing the cars behind the peloton to allow their passing.
Although teams of 12 is double the amount of personnel every other team has, we applaud their audaciousness.
>>> Sean Kelly hits the deck after crashing into wild boar
The rear of the sprint chase are closely packed together - good for slipstreaming and conserving vital energy in the remaining sprint - but, alarmingly, there is a sizeable gap to the four riders who seem to have broken away for the line.
While the piglets could work on team cohesion a little better, JLT-Condor were exploiting the chance to use as many cycling and pig puns as possible.
And, of course, French cycling and pigs isn't a new phenomena: the Tro Bro Léon rewards the victor with their very own pig.
Both JLT and Madison were selected for next month's Tour de Yorkshire earlier this week, with fellow British third-tier teams Team Wiggins left out.
Thank you for reading 20 articles this month* Join now for unlimited access
Enjoy your first month for just £1 / $1 / €1
*Read 5 free articles per month without a subscription
Join now for unlimited access
Try first month for just £1 / $1 / €1