Pullar pulls surprise Monsal Hill-Climb win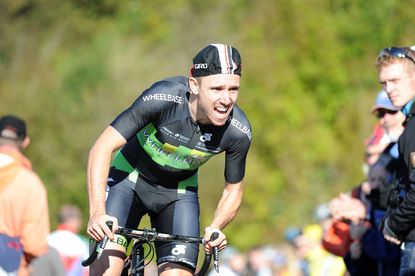 Lancashire rider Jack Pullar threw the race for the National Hill-Climb Championship wide open when he won the prestigious Monsal climb in Derbyshire on Sunday.
The 22-year-old Wheelbase rider clocked 1-18.9 to take victory ahead of a field which was littered with professionals and former national champions.
Reigning national champion Gunnar Gronlund (RST Trigon) had to settle for third spot while second place went to Russell Downing (Endura Racing), 1.7 seconds behind Carnforth-based Pullar.
Rob Gough (Arctic SRAM RT) won three out of four events last weekend, starting with a brace of victories on Saturday in the Chippenham and District Wheelers' event at Bowden Hill, then the afternoon's Severn RC event on Hinton Hill.
Sunday started in the same fashion when he won VC Walcot's event at Claverton Lane where he pipped Glyndwr Griffiths (Bristol South CC) to victory, but Griffiths turned the tables later in the day in the Adeo Cadence RT climb.
Meanwhile, national title hopeful Tejvan Pettinger (Sri Chinmoy CT) proved a comfortable winner of the Otley CC two-stage event in West Yorkshire.
He won both the Guise Cliff and Norwood Edge climbs, winning overall by 44 seconds from his nearest rival, Sam Ward (Otley CC).
While Pettinger is aiming to secure his first national title later this month, an old hand and former champion Matt Clinton (Mike Vaughan Cycles) took victory in the Birdwell Wheelers hill-climb at Curbar in Derbyshire on Saturday.
Clinton clocked 5-17.6 to win by 26 seconds from Buxton CC rival Lee Baldwin.
And in Sussex, Pete Tadros (In-Gear Quickvit) won the Sussex CA event on Steyning Bostal by 28 seconds from Lewes Wanderers junior rider Dan Gardner.
North of the border, Barry Wilson (Dundee Thistle RC) won the Dundee and District Hill-Climb Championships at Abernyte, covering the 4.1-kilometre course in 10-34 and winning easily by 27 seconds from 16-year-old talent Lewis Grieve (Spokes RT).
In time trialling, Michael Hutchinson (In-Gear Quickvit RT) won the VTTA (East Anglia) 30-mile event convincingly.
He clocked 55-59 to win by more than two and a half minutes and go within 20 seconds of the national competition record he set last year.
Related links
Monsal Hill-Climb photo gallery by Andy Jones
Thank you for reading 20 articles this month* Join now for unlimited access
Enjoy your first month for just £1 / $1 / €1
*Read 5 free articles per month without a subscription
Join now for unlimited access
Try first month for just £1 / $1 / €1