Riders react to UCI President David Lappartient's suggestions of six rider teams and budget caps
UCI president is considering teams of six and budget caps to prevent single squad dominance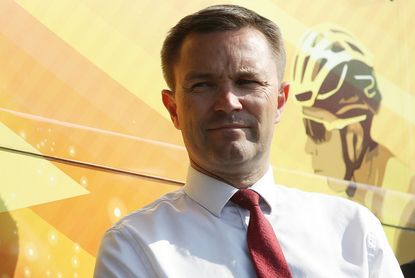 (Image credit: Getty Images)
UCI president David Lappartient's suggestions of six rider teams and budget caps to help prevent the richest teams from dominating the sport have received little positive backing from riders so far.
Lappartient has floated the idea of chopping the current Grand Tour team allowance of eight riders down to six, having already reduced it from nine for 2018.
In an interview with Swiss French language daily, Le Temps he also discussed capping team budgets - largely referencing the dominance of Team Sky, who have won six of the last seven editions of the Tour de France - as the key motivation.
>>> Salary cap discussion returns to cycling after Team Sky's Tour de France 2018 domination
"We should go further with a reduction to six, I think, for the measure to be really effective. At seven, a team like Sky is still racing. At six, the less the leader, it's only five guys to ride, they would tire a little more," Lappartient commented.
He pinpointed Team Sky again in reference to budget caps, saying: "We could regulate the overall payroll of the teams, to balance the forces. Because today, we realize that Sky has Geraint Thomas, Chris Froome and Egal Bernal, three riders who could be first, second and third in the Tour de France. However, cycling is interesting when the best are in different teams."
Lappartient also referred to Team Sky's estimated €30 million budget as "homogenous" when considered alongside the World Anti Doping Agencies €50 million and the UCI's €40 million.
Thomas de Gendt (Lotto-Soudal) made his position clear, suggesting that the measures were bordering on a rather dystopian sounding homogenisation of the entire sport, also picking up on a few of the less popular events of the most recent Tour de France.
"Only 65km stages, no training camps allowed, no dinners, no feedzones, only 2 bottles per day, max 2000 calories per day. Cyclists can't draft for longer than 20 seconds. Only 4 gears allowed. No brakes, F1 starts everyday and pepper spray before each start," he tweeted.
Team Sky's Michał Kwiatkowski was quick to respond, suggesting that Team Sky was being targeted where others where not - tweeting: "Sagan dominance = exciting. Quick Step classics dominance = exciting. BMC TTT dominance = exciting. Sky grand tours dominance = boring, so let's turn cycling upside down."
The most positive reply we've seen to date came from Dan Martin (UAE Team Emirates) - though his suggestion was not one of budget caps, but of cash incentives.
"Surely it would make more sense to help smaller budget teams get more money than to restrict income into the sport. Compared to football and formula 1 cycling is already a poor relation. More start money to smaller teams perhaps?" he asked.
In his Le Temps interview, Lappartient said the 2018 Tour de France carried a "heavy atmosphere" stating "there is neither the same freshness nor the same craze as usual."
He did not blame the public's distrust of Team Sky alone, however saying "there are several things: a virulent farmer's demonstration, the fall of Vincenzo Nibali in Alpe d'Huez."
He did however add that the Tour had started "badly", largely pointing the finger at uncertainty around Froome's Salbutamol case - which saw the rider cleared to race days before the Grand Départ.
Lappartient added that the decision was based on "legal criteria", and that though "Sky has an excellent lawyer, this is also the case of the UCI." However, he said he understood that the public didn't see it that way.
"[I] know perfectly well that there is on one side the facts as they are, and on the other hand the facts as perceived by the public. Now, sometimes, this perception is the opposite of reality."
Suggestions of budget caps for teams, and even rider salary caps, are not new. The concept was discussed heavily over the course of the 2017 Vuelta a España, and supported by Alberto Contador.
The discussion has also been revived in French daily newspaper Libération, which compared Sky's estimated 3o million budget with the 15 million of Sunweb and 12 million of Movistar.
"The distribution of the booty has gotten worse. The gap between the means of teams has exploded – while the shareholders of ASO refuse to give up a cent," the paper noted, backing up Lappartient's comments by stating "this Tour leaves a deep feeling of weariness," alongside "disillusioned angry fans" and "icy indifference."
Thank you for reading 5 articles this month* Join now for unlimited access
Enjoy your first month for just £1 / $1 / €1
*Read 5 free articles per month without a subscription
Join now for unlimited access
Try first month for just £1 / $1 / €1