Tour de France stage 16 neutralised after riders caught with police pepper spray aimed at protestors (video)
Stage 16 halted for around 20 minutes while riders received medical treatment.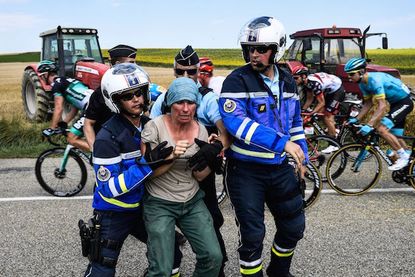 (Image credit: JEFF PACHOUD/AFP/Getty Images))
Stage 16 of the 2018 Tour de France had to be neutralised for around 20 minutes and riders given medical treatment after being affected by a pepper spray used by police on roadside protestors.
The incident took place with 188km remaining on the stage between Carcassonne and Bagnères-de-Luchon, after a frantic opening 30km of racing.
As the riders passed through an agricultural area, television footage showed police officers trying to tackle a protest by local farmers who were attempting to block the race with hay bales.
While the police officers were attempting to deal with the protestors, one of the officers appeared to used a pepper spray against one of the protestors which was then caught in the wind and blew back towards the officer and into the faces of some of the riders.
The race was quickly neutralised by the commissaires to allow a number of riders to get medical treatment from the race doctors, with many riders including the yellow jersey of Geraint Thomas and the green jersey of Peter Sagan.
The peloton was brought to a halt while race director Christian Prudhomme held discussions with leading riders including Chris Froome, before getting back underway.
There is a long history of protestors using the Tour de France to gain attention for their grievances, with banners and flags often being visible at the side of the road on stages every year.
However it is rare that protestors choose to, or are allowed to, disrupt the race, with the most famous exception being during the 1984 edition of Paris-Nice when Bernard Hinault chose to deal with protesting shipyard workers blocking the road by riding into them at full speed and starting to throw punches.
Thank you for reading 20 articles this month* Join now for unlimited access
Enjoy your first month for just £1 / $1 / €1
*Read 5 free articles per month without a subscription
Join now for unlimited access
Try first month for just £1 / $1 / €1