Salary cap discussion returns to cycling after Team Sky's Tour de France 2018 domination
French newspaper says "this Tour leaves a deep feeling of weariness"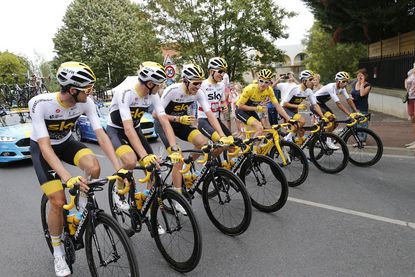 (Image credit: Yuzuru SUNADA)
Hostility towards Team Sky continues in France, with French newspaper Libération reportedly returning to discussions around budget caps for pro teams, with the hope of diminishing the British squads dominance.
Team Sky's estimated budget is in excess of £30 million a year - in 2016 they were reported to have £31 million at their disposal. This far exceeds that of others.
Second place rider Tom Dumoulin's Sunweb squad is believed to run on around £15 million and Movistar supports the likes of Nairo Quintana and Mikel Lands on an estimated £12 million annually.
French paper Libération has published a story titled "The Tour de France goes round in circles," stating: "The distribution of the booty has gotten worse. The gap between the means of teams has exploded – while the shareholders of ASO refuse to give up a cent."
It compared the budgets of French outfit Fortuneo-Samsic, which it said had "3.5 million euros in 2017" to Sky with "at least ten times more."
It also talked about the negative reaction of the French fans towards Team Sky - particularly four time Tour winner Chris Froome - which saw them booed, with accusations of physical violence such as punches thrown on Alpe d'Huez.
The paper commented: "this Tour leaves a deep feeling of weariness," alongside "disillusioned angry fans" and "icy indifference."
The idea of budget cuts has been discussed at length in the past.
UCI president David Lappartient is in favour of the idea - stating that he believed a funding ceiling would prevent richer teams "blocking" races - for example being able to recruit only the best riders who can patrol the front of a bunch on the climbs whilst leaders of lesser teams are left to fend for themselves.
In the later months of 2017, Lappartient said: "I am against a salary cap for the riders, cyclists can earn as much as they want and teams have to pay as much for a rider as they want."
"What I am talking about is introducing a ceiling for the team's budget in general, which means that if you pay a certain rider a high wage, you will have less money left for other riders. That means you would naturally have the strong riders better divided among various teams."
Former HTC-Highroad owner Bob Stapleton told Cycling Weekly at the time: "The haves and haves not have grown even further."
"You have a small group of wealth and teams who are dominating the sport and turnover in the mid- to lower-level teams that don't have the money."
In a press conference held on the final rest day of the Vuelta a España 2017, Alberto Contador expressed his view that salary caps would be beneficial for the sport, going forward.
"I think there should be a salary cap. You have to decide what the amount should be, for example 15 million Euros on rider salaries. Because if budgets start to go through the roof, we're going to find it difficult to attract sponsors at all," Contador said.
When asked about the idea at the same Vuelta, overall winner of the race Chris Froome responded with the counter question: "Where do you draw the line?"
The six-time Grand Tour GC winner, whose salary has been estimated at around £4 million a year suggested an extension of salary caps could mean: "Everybody's going to be the same. We should all ride the same bikes, have the same equipment sponsors, all eat the same rice and porridge every morning so no-one's got added fuel for the stage."
Thank you for reading 20 articles this month* Join now for unlimited access
Enjoy your first month for just £1 / $1 / €1
*Read 5 free articles per month without a subscription
Join now for unlimited access
Try first month for just £1 / $1 / €1