Chris Froome loudly booed by French crowd at Tour de France team presentation (video)
Four-time champion receives hostile reception from local crowd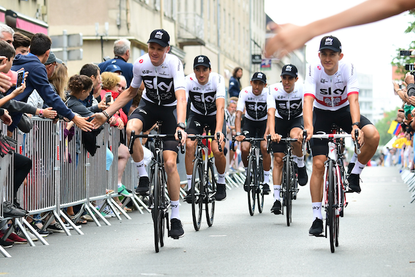 (Image credit: ASO/Alex BROADWAY)
Chris Froome found himself drowned out by a chorus of boos and whistles as he and his Team Sky team-mates took part in the pre-race presentation ahead of the Tour de France on Thursday.
Riding onto the stage at the presentation in the town of La Roche-sur-Yon in the the west of France, which will host the finish of the opening stage of the race on Saturday, the boos for Froome and his Team Sky team-mates were already easy to hear, with the jeering only getting louder as Froome was asked about his attempt to win a fifth Tour de France title.
"It will be incredible if I am able to win my fifth Tour de France," Froome said, doing an admirable job of keeping a smile on his face and appearing upbeat despite the hostile reception. "I've got an amazing team here to support me and we're going to give it everything we've got.
>>> Richie Porte: 'There are a lot of guys ready to end Chris Froome's Grand Tour winning streak'
As well as booed and hissed at as he stood on the stage, Froome was also jeered as he rode through the crowds on the way to and from the stage, a a far cry from the hero's reception that French GC contender Romain Bardet got as he made the same journey.
Froome stood in front of the crowd at the team presentation just three days after the UCI took the decision to drop an anti-doping investigation into him, deciding that the British rider had no case to answer after he was found to have a high concentration of salbutamol in his urine after a stage of last year's Vuelta a España.
The 33-year-old was cleared after his legal and scientific teams built a statistical model to show the likelihood of false positives under current World Anti-Doping Agency regulations, with the scientist who helped to come up with the regulations saying that he made a "terrible blunder".
However this seems to have counted for little for the French public, who gave Froome a similar reception to that which Alberto Contador received in 2011 having tested positive for clenbuterol at the previous year's race.
Thank you for reading 20 articles this month* Join now for unlimited access
Enjoy your first month for just £1 / $1 / €1
*Read 5 free articles per month without a subscription
Join now for unlimited access
Try first month for just £1 / $1 / €1