Richie Porte: 'There are a lot of guys ready to end Chris Froome's Grand Tour winning streak'
Porte vows to take advantage of any weakness that Froome shows after his Giro d'Italia effort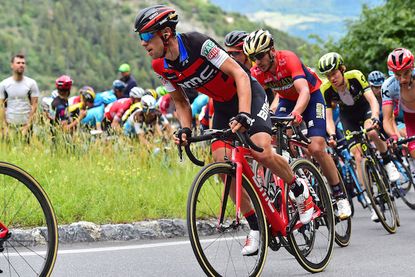 (Image credit: Yuzuru Sunada)
Chris Froome will face no shortage of opposition at the Tour de France from other GC contenders aiming to end his 12-month Grand Tour winning streak, according to one of the men who should be in contention for the yellow jersey - Richie Porte.
Froome's personal friend and former team-mate, Porte says that if Team Sky's Froome shows one moment of weakness, perhaps suffering from fatigue from his Giro d'Italia win, then his rivals will pounce.
Froome won the 2017 Tour de France, before going on to win the 2017 Vuelta a España and, just two months ago, the 2018 Giro d'Italia. He now lines up for a record equalling fifth Tour title and a shot at the Giro/Tour double that has not been achieved since 1998.
"He's here with the goal of winning it, and he's probably done the right work to do that," Porte explained at a press conference two days ahead of the Tour's Grand Depart in the Vendée region.
"Like I said before, I hope he is tired. Guys like Vincenzo Nibali and Nairo Quintana are not going to give him an easy day, that could also happen out on the road. If he does have a bad day, there are quite a few guys ready to end his winning streak."
Froome pulled off a historic Giro d'Italia win in May, becoming the first British rider to win and doing so with a lengthy 80km solo attack on stage 19. He has not raced since he won the spiral trophy in Rome on May 27.
"It was nice to watch him in the Giro and hope he's buggered!" Porte continued. "He might be!"
Watch: Tour de France 2018 preview
Only a handful riders in the history of cycling have won the Giro and Tour in same year, and with the sport's increasing specialisation in recent year, few even try.
Italian Marco Pantani last won the Giro and Tour in the same 1998 season, becoming the seventh man to do so. Since, Spaniard Alberto Contador tried in 2011 and Nairo Quintana in 2017.
"Since Pantani it hasn't been done. I was here in 2011 with Alberto Contador, who crushed it in the Giro and was fifth which is nothing to sneeze at, but couldn't back it up in the Tour," Porte said.
"Chris was at the Giro with a strong team and here in the Tour with arguably a stronger team. If anyone is able to do it, then perhaps him. I know that team after riding there for four years."
Porte knows Froome well, having raced for Team Sky from 2012 to 2015 and still regularly training with Froome in the hills above Mondao.
He laughed at the recent data released about Froome losing weight in the first two weeks of the Giro to be ready for the third and a shot at a fifth Tour title.
"I think it's fake news. Maybe they put it out there and hope that guys read that and under-fuel," Porte said.
"We are all professional athletes and know how to fuel. We don't need to read online to see how Sky's doing it, I've been doing this long enough to know what to eat."
Porte improved since leaving Sky to look for his own space at BMC Racing. Last year, a brutal downhill crash on stage nine resulting in a fractured collarbone and pelvis, saw him abandon. This year, he is again a pre-race favourite having won the Tour de Suisse. He appears ready, thin with cheekbones visible and arms like twigs.
"The other favourites? Jakob Fuglsang surprised me, he was incredible in the last time trial and also in that uphill finish in the Tour de Suisse, he was right there with me that day and he was super. Geraint Thomas and Romain Bardet also looked good in the Critérium du Dauphiné.
"But it's a tricky one. You can't get transfixed on one guy. There are so many twists and turns in the Tour, I don't think there's one favourite overall.
"I don't know if I'm the lightest yet, the goal is always to not come here not on fumes. I've come to the Tour before on fumes as well as in the Giro 2015, worrying too much about weight. The first nine days is not where you weight is, it's probably better to get through the race healthy."
Thank you for reading 20 articles this month* Join now for unlimited access
Enjoy your first month for just £1 / $1 / €1
*Read 5 free articles per month without a subscription
Join now for unlimited access
Try first month for just £1 / $1 / €1